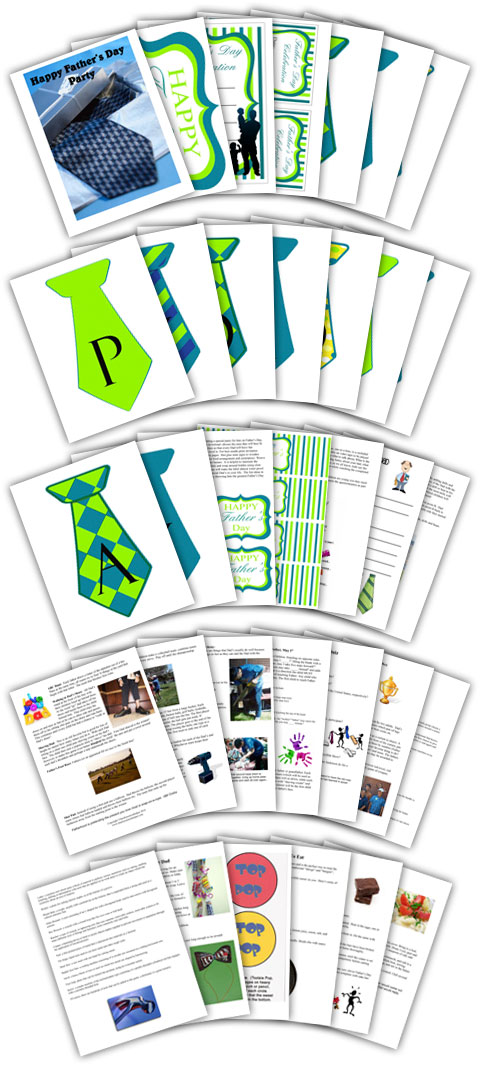 Order Now
$14.95
You will be able to download your product immediately after purchase in a PDF file. You can view and print this file through your computer.
if you have any problem with your reunion download email us at auntmo@familyreunionhelper.com
Click here to view instructions on ordering and downloading your product.
Product Details
Happy Fathers Day Party
Help your Dad feel like the great Dad he is by holding a special party for him on Father's Day.
We have always held our Dad's Day party the Saturday before Father's Day and invited all the Dad's in our family – uncles, grandpas and cousins. If you don't have enough family members that live close, invite a few Dads in your neighborhood to join the fun.
Family Reunion Helper is now offering a $14.95 download full of more than 30 pages of Father's Day games and activities including a printable invitation, water bottle labels, "Dad's Day" tie banner and sign, "Famous Fathers" game, tool game, recipes for Snicker Brownies and Dad's favorite Potato Salad, Father's Day lei, bow tie, boutonniere and the ever popular "Father of the Year Relay". Not to mention games, games, games just perfect for your favorite Dad!
Don't worry about using all of the activities in the download- choose the ones that will best fit your family. Be sure and include a variety of activities so that every Dad will have fun participating no matter what their skill and interest level is. Using the ideas at www.familyreunionhelper.com can help you can honor your Dad by throwing him the greatest Father's Day party ever!