My first memories of family reunions were attending the "Fackrell" family reunion in Lyman, Wyoming as a child.  The first evening of the reunion we would meet at the school and listen to the original family members tell about their families.  I have to admit I probably would've enjoyed hearing about Aunt Ruth's most recent, Uncle Kim's crop loss and "the twins" escapades at college but honestly I didn't know WHO these people were!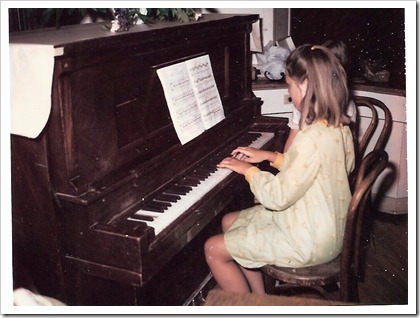 Aunt Mo sharing her talent at the Fackrell Family reunion
The second day of our reunion was the best- with relay races (we got a nickel if we participated and a dime if we won our race) good food and prizes (for the oldest, youngest, person that traveled the farthest and the cousin with the longest hair.)  Uncle Spence and Addie always bought their sound system and boxes of orange sticks to share.  The men would admire the new "touring" car Uncle Frank just bought and all the women would fuss over the newest Fackrell baby.  That second day of the Fackrell reunion gave me a love of family and of coming together- I just wanted to do it bigger and better than it had ever been done before.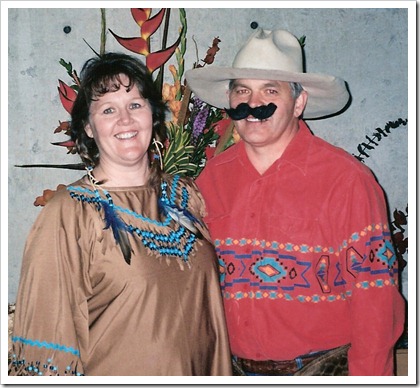 Aunt Mo and Uncle Steve at the Western Family Reunion
The first family reunion I was in charge of was the DeLoy and Marilynn Stewart reunion 27 years ago.  We held it up Box Elder Campground and we all fit into four campsites.  Now we have to rent an entire park or campground to accommodate all of us Stewarts and it takes at least three days to pack in all the fun we have.  And that's why there is so much material for this website.  My brothers had been trying to convince me to do a family reunion website but I just had no idea how to go about it.  Then…
last October my husband, Uncle Steven, got caught in a " Reduction of Force" at ATK/Thiokol and thus this website came to be.  How fun it has been to look at old photos and relive fun memories of favorite reunions throughout the years.
A big thanks to my family, for being good sports and "guinea" pigs for all my wild and crazy ideas, to my husband and partner in crime, Uncle Steven, who knows how to make my ideas come to life and to my brothers who believe in me, my Mom and Dad for letting me create, plan and practice on them and to my amazing "web master", Terance, for his patience and professionalism.
And to all of you who visit his site- I hope that your reunions will be a rewarding experience and that through them you will discover the roots and branches on your own family tree.
Aunt MO