The Legend of White Eyes
I didn't write it nor do I know where it came from- maybe it really is a true story and came from the pages of my history book. I've heard a lot of scary stories when I've been camping but this is the only story that made me scream- I hope you scream too.
Advance preparation- besides practicing the telling of this tale you will need to take a ping-pong ball and cut it in half. Color a small dark dot on each half with a permanent marker. These will be your "white eyes". Keep them concealed in a closed hand. When the time is right, pop them on over each eye. (You may customize place names in your story to suit the occasion) NOTE: I would wait to tell this story until the little ones in your family had been tucked into bed.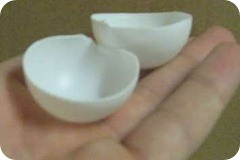 There on that side of the lake (point) is where this story took place. As you all may know, the area around here was a busy place 100 years ago due to the Gold rush. Miners turned this whole region upside down in a quest for GOLD!
Greed can be a dangerous thing, especially where Gold is involved. To find more gold meant faster production, and digging deeper underground. It also meant sacrificing safety, but they didn't care because there were a lot of foolish men around looking to make their fortune.
One day an underground mine collapsed with 16 men still waiting to come up from a full day's work. Hour after hour went by as they awaited their rescue. The conditions were terrible. It was pitch-black dark, and very hot, dry and dusty down deep in that shaft. The men collected droplets of water that seeped down the tunnel walls in an attempt to satisfy their dying thirst. Days went by and still no rescue. To stave off hunger, they ate rats, mushrooms, and eventually… their dead co-workers.
(Throw a log on the fire for dramatic effect! Poke away at the embers.)
Despite their hopelessness, they scraped away at the rock and debris to try and dig their way out, confident that others would be digging from the surface as part of the rescue attempt. They dug and they dug, day after day, frantically hoping to see daylight from the surface. The days stretched into weeks, and then from there, the few men left alive lost track of time, and started losing their minds.
An eternity later, the survivors finally broke through, and made two very surprising discoveries. One: there was no search party. The mining company had abandoned the mine, and simply walked away. And two… all that time underground had affected their eyes… Their eyeballs were all white, except for an itty bitty black pupil. And they could no longer tolerate sunlight. 
Being left for dead was bad enough. Turning into some sort of White-eyed freak was too much. They snapped. In their rage they made a pact to hunt down every man who abandoned them in that old mine. And soon after, mysterious instances of men being killed in the mountains around here started.
The locals at first thought it was a bear or a cougar doing all the killing. The victims were usually found mauled, bloody and torn. But; closer examination showed the teeth marks on the bodies… were from human teeth!!
(Throw log on the fire!)
One by one, those white-eyed freaks killed off every miner, and any other man they could find in this area. And to this day, you won't find any mining around these parts. Keep in mind this all happened 100 years ago. You're probably wondering what happened to those white-eyes?? They should all be gone now due to old age, or at least that's what they thought… until a few weeks ago. I heard on the radio, they found a hiker mauled on that trail on the backside of the lake. And on that dead man's neck… human teeth marks!!!
Heed my words, kids: As long as you're close to the fire, the light will scare 'em away, but if you need to go into the dark… (pop in the ping-pong ball props)
BEWARE of the WHITE-EYES!!!!
Aaagghhh!!!!
Aunt MO