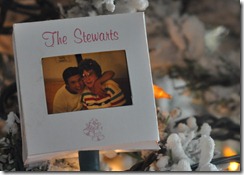 For the last 50 years my family has recorded their favorite family memories on photographic slides that can only be viewed with a slide projector.  As much as I love gathering the family together for a slide show I was thrilled when Uncle Steven came up with a brilliant idea for making slide ornaments for our Christmas tree.
Slide ornaments are easy and inexpensive to make.  There is quite a bit of cutting, folding and taping involved but the most difficult part of making slide ornaments is choosing the slides you want to display on your tree.
It is fun to use slides from past Christmases, family reunions or especially embarrassing for children and fun for parents is to use pictures of children when they were small.
Because we were making over a hundred slides we had a print shop print our ornaments and they even scored the fold lines.  You will want to use a higher end grade of card stock, one that has been coated in either or matte or gloss finish.  We used the gloss finish.  Both should be available at your local print or stationary store.  You can download a free  slide ornament pattern at familyreunionhelper.com 
We had our name printed on our slide box but  we found that made it a little restricting as we couldn't use vertical slides in our ornaments without making our name look funny.  I would recommend not using any words or graphics that will limit your options.
We used a good pair of scissors to cut out our ornaments and an X-acto knife and ruler to cut out an opening for the slide.  Tape the slide  to the inside  of the box then fold and fasten together with doubled sided tape.
HINTS:
Display with white or clear lights.  Your slides will be whatever color the light is.
You can punch the hole for the lights in the top or bottom of the box depending on how you want the ornament to hang.
Store slide ornaments in a shirt box for next year's tree.  They are are long lasting and make a fun family tradition during the Christmas season.
Aunt MO
"Remember that our blessings outnumber the  lights on the Christmas tree." Unknown