I love this family reunion theme!  It's so flexible- with some minor tweaking your prehistoric reunion can become a dinosaur or caveman party. 
A "prehistoic" theme can be the perfect choice for someone celebrating a milestone birthday and adds some good natured fun to your celebration.
One of the first family reunions I ever planned was a dinosaur reunion back in the early 80's.  We made large, plywood dinosaur cut outs to decorate our reunion site.  We served Brontosaurs burgers and went on a hike to find giant dinosaur eggs.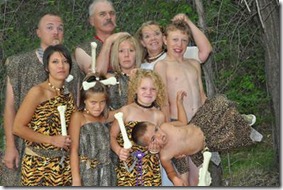 To throw the perfect caveman party, you will need to look the part. You can find fun Caveman or Flintstones costumes and accessories at costume store or online. (A good resource for Flintstone costumes is http://www.flintstonecostumes.com/)  You can also fashion your own out costumes out of fake fur, and animal-print fabrics. Don't forget unkempt hair, bare feet, bone necklaces and hair bows, clubs and spears!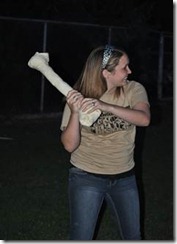 With this fun family reunion theme you can plan a Saber Tooth Tiger Cateye hike in the dark or challenge family members to work together to make a prehistoric pipeline. Prehistoric "baseball" is a silly way to enjoy America's favorite pastime.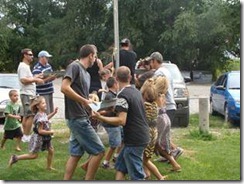 A fill in the blank invitation is included along with recipes and ideas for "Good Things to Eat". Don't forget to print off the dinosaur Bunko score card and the dinosaur trivia printable and leave dinosaur footprints all over your reunion site with the footprint printable pattern. Reunion activities for one day or a weekend of prehistoric family fun!
For $19.95 you can let loose your families' inner beast with family reunion helper's Caveman theme package. 
Prehistoric Reunion Activities include;
Invitation printables
Dinosaur riddles
Dinosaur Trivia printable Game
Baking Soda Volcano instructions
"Lost World" Obstacle Course
Pet Rock Instructions
Dinosaur cookie decorating
prehistoric baseball
prehistoric pipeline
Dinosaur footprint painting
Dinosaur Bunko
"Good Things to Eat"
children's games and activities
team building activities
dinosaur egg hunt
fossil painting
Slime recipe
costume helps
Saber Tooth Tiger cateye hike. A night time hike with flashlights.