Scavenger Hunt Clues Using Pictures
Take a picture of the location of a hidden clue but only take a portion of the picture. In the example below you can see that just a portion of the word is shown.  You could do part of a clock, drinking fountain, corner of tent, a car wheel with interesting rims etc.  When the hunters figure out what the clue is a picture of they run to that location to get their next picture clue and so on until they find the treasure.  This does take some advance planning but makes for fun hunt for even the very young that may not be good readers.

Secret Codes Hunt
Writing secret codes is another way to generate clues. Using numbers in place of letters is an easy way to create the code (1=a, 2=b, etc.), but  using a backwards letter code can make things a little extra challenging. Decipher the  clue to find out where to look for their next clue.
Urban Race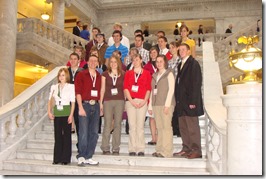 As a Youth Council advisor for our town, I had the fun opportunity to participate in a Great Urban Race at Utah State University.  The teenagers learned a lot about the university by unscrambling clues and completing challenges to complete the race.  The kids loved it and I couldn't help but think what a fun activity it could be for a family reunion, especially if you held your reunion in a town that your family had ties to. 
Urban Race is the team race that's part photo hunt and part trivia. Teams must solve clues to find checkpoints throughout the city. To move on they must take photos or perform certain tasks to earn points.
The fun part of an urban race is that the use of cellphones is  okay. Teams may call family members left back at the reunion site to get help with difficult trivia. Everyone gets a chance to participate in the fun.
Riddle Clues
The most difficult part of a treasure or scavenger hunt for me is making up the  clues, it's also time consuming. I found a website that can help with that- it's called "Riddle Me". They have over Over 10,000 Riddles on 1,200 objects and can target different age groups and types of gatherings.  Their program also lets you be in control over the time of the activity, because it lets you decide how many clues to print in a scavenger hunt.