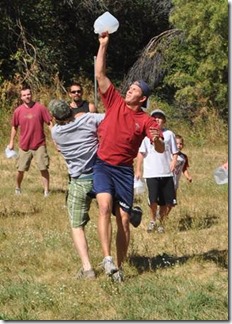 Jugball is a game that the Stewart family "invented" about 20 years ago and has become a family favorite at our annual family reunions. It doesn't matter what else we do or what our reunion theme is, we always play Jugball.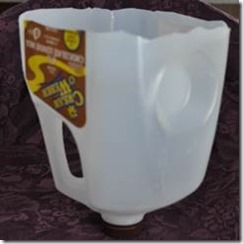 Jugball Milk Jugs
The most difficult part of Jugball is getting enough jugs for everyone to use. We ask family members to bring their own jugs and then an extra jug for someone who forgets theirs.  We just cut the bottom out of old milk jugs.  If you wanted to be  creative you could decorate them with duct tape  and  markers but we play with our jugs just the way they are.  A note about the ball- bring several types and sizes of balls to see what works for you.  You don't want a ball that is too bouncy or it will be difficult to keep in your jug.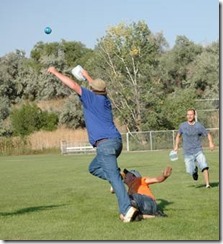 Jugball Rules- sort of
I've never played Jugball but those that do assure me that it is  an easy game to learn.  It's pretty much like football with goal being to get the jugball into the end zone in a teammate's jug.
First mark off a large field, with boundaries and two end zones.
The game begins with a(throw off), and the receiving team may either catch the jugball, and move it from there, or drop it, or let it hit the ground upon reception. Then, the receiving team works the jugball forward, toward the other team's end zone. The ball may move only through the air.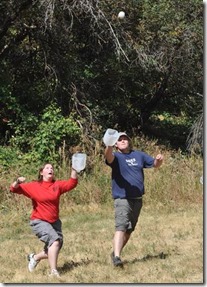 Upon catching a pass, a player must stop running (you are allowed to be carried two steps by the act of the catch), and try to find a teammate who is trying to get open. This game continues until a point is scored, at which point the scoring team throws off.
If, at any point, the jugball hits the ground (not during a throw off), the team who was not in possession before the fault assumes control.
A score happens when a player catches the jugball in the other team's end zone. If an out of bounds pass happens, the other team throws in from that spot on the boundary.
The defense may cover the player with possession of the ball, like defenders in basketball (but the jugball may not be knocked out of a players jug, it must be allowed to be thrown). Also, if the other team is on offense, it is worth simply knocking down the jugball if catching it is difficult, as this will also result in a change of possession.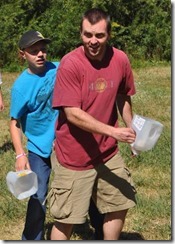 My favorite thing about Jugball is that our family just made it up at  family reunion.  It doesn't take a lot of expensive equipment or extensive planning- you just do it.  If you're family tries Jugball it might become a family tradition at your reunions or maybe… you'll make up your own game.