Family Tree Photo
Make a live family tree and take a photo. Arrange family members as they would be on a genealogical chart of the family.  Begin  with Grandma and Grandpa.  Add a branch consisting of their children and spouses.  Add additional branches for each of their children and so on. Be sure and take a picture- preferably from an elevated position.
Birthday Game
Mix family members up and divide into groups or ten or so. Challenge family members to put themselves in order of their birth date (day, month and year). If you have mostly young children the challenge should be to get in a line, oldest to youngest.  To make the  challenge more difficult try doing it blindfolded and tell them "No Talking!"  It's amazing how resourceful they will be communicating in other ways.
To involve your entire family ask those that were born in January to get together in one group; do the same for each of the other months. Then have the members of the January group give their birthdates, such as January 21, January 9, etc. and  line up  accordingly. This is fun activity that forges an immediate bond between those that share the same birthday or even birthday month.  This activity is especially effective with reunions of 100  or more participants.
Family Reunion Concentration Game
This activity takes some  advance planning.  Create a "memory" or "concentration" game. You will need 54 cards with 26 pairs of pictures on them.  With so many digital options this is a fairly easy but still a time consuming idea.  Make two copies of each photo- be sure and include name, birthdate and birthplace of each person.  You can make a game using ancestors or using photos of family members that are attending the current reunion.  With this game you will reconnect with the past or make connections with the present.
Family Tree Chart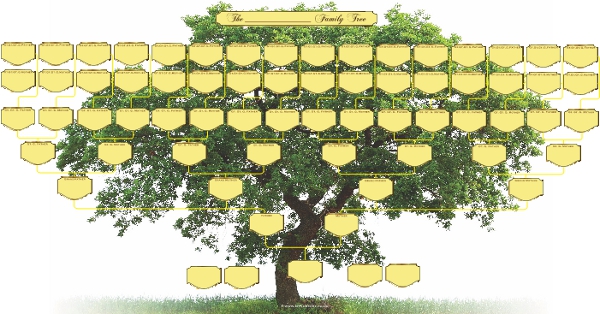 Make a huge family tree on and display it during the reunion. You can have large 36" x 48" "engineering prints" made at Staples for under $10.00 that work perfectly for this kind of presentation. Be sure and make 8 1/2 x 11 copies of the tree for each family to take home.  The chart pictured above is another option.  It is available from My History and is a fill in the blank type chart.
Name Tags for Your Family Reunion
Be creative  with  your reunion name tags.  When family members check in at your reunion site give them each a name tag.  But instead of the same old  "my name  is" name tags be a little creative.  Put different design on name tags so that everyone with design sits at the same table for meals and are on the same team when dividing for activities.  This helps family members get acquainted or Reacquainted with family members they don't see often. The tags above are from the family reunion helper Heritage Reunion.