Getting To Know You Ice Breaker Game for Your Family Reunion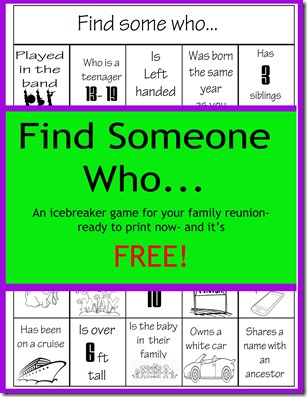 Family Reunion Bingo
A fun, traditional ice breaker game for your family reunion is the "Find Someone Who…" game.  The printable game card is set up similar to a BINGO card but our family prefers to just play the game using the entire card.
Give everyone at your reunion a copy of the game card and a pen or pencil. (Different colored pencils or markers make for a colorful card when the card is filled up.
Getting Signatures
Instruct your family to have reunion goers sign the squares that apply to them.  You can make up rules that best fit your family reunion- you may only sign one time on a card or two times on a card etc.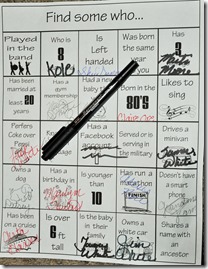 Awarding Prizes
You may give prizes to those that complete a row across, down or diagonal such as in family reunion BINGO, but I like to award prizes to those that get every square signed.  ''Smarties" candies are great  prizes for those that only get a BINGO but consider giving
Kudos bars – Kudos to you
Bar None - You are the best
Milky Way or Mars bars – You're Out of This World
M&Ms – Magnificent & Marvelous Award
or an award that goes along with your family reunion theme.
Family Reunion Bingo
Copy, paste and print on card stock this family reunion Bingo card for lots of ice breaker fun at your next family reunion.  You'll be surprised at what you'll learn about your family.