Rustle up some cowpokes and head on down to the OK Corral for a wild and wooly family reunion! We're proud to announce the completion of our "western" family reunion.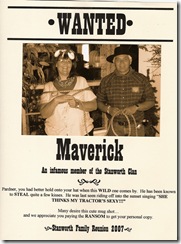 A western or cowboy theme has been a favorite reunion of our family for many years. It's a theme we have repeated many times. It takes hours to create a family reunion theme for the webpage and as I worked on this western reunion theme, looking at photos and reading journal entries from past reunions, I was amazed and excited about all the fun things we had done. In fact, there were so many great ideas I had to force myself to stop writing after 30 pages of "yeehaw" fun.
I tried to choose the very best western decorating ideas, games, activities, recipes and printables for this theme but, like with most things, with the completion of the Western reunion I immediately started thinking of things I should have found room for – like Uncle Richard's homemade root beer recipe. So refreshing and delicious we include it at all our family reunions but it seems like an obvious drink for the "saloon" area at your western reunion. Therefore, I thought I'd use this blog to share this refreshing recipe with all my www.familyreunionhelper.com blog friends.
If you ask Uncle Richard for his root beer recipe he'll just tell you to add a bag of sugar, root beer concentrate and water, but we have carefully watched him make his brew and we now have an official Uncle Richard root beer recipe.
Uncle Richard's Homemade Root Beer
You will need:
5 gallon container to mix root beer (we use an insulated cooler with a spigot or a milk can, using a ladle to serve)
5 pounds granulated sugar
5 gallons of water
5 pounds of dry ice (I always buy 6 pounds because some of it seems to "magically" disappear.)

2 ounce bottle of Root beer concentrate (I use McCormick brand found near the vanilla extract in the spice section of your grocery store.)
Directions:
Begin making your homemade root beer 30 minutes before serving. With a long handled ladle or spoon, mix water, sugar and root beer concentrate in your container until sugar is dissolved. Add dry ice. Do not put the lid tightly on your container. Let sit for about 30 minutes and then serve.
This root beer will loose it's fizz and isn't something you can store in the fridge for days. If you do have some root beer left over (doubt it) just leave it in the container and you will soon find icy, popsicle like areas that are fun to scoop out and suck on.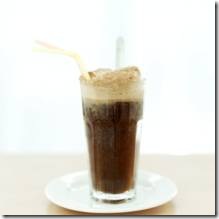 If you want to serve a yummy treat at your family reunion, serve the root beer over a scoop of vanilla ice cream in a tall glass or mug. The Root Beer float was invented in 1893, when Frank Wisner of the Cripple Creek Brewing Company in Colorado., glanced at snow-capped mountain on a moon-lit evening. What he saw resembled a scoop of vanilla ice cream floating on top of the black mountain. That inspired Wiser to add a scoop of ice cream to his own brewed root beer and thus the "root beer float" came to be.
Don't forget to check out the latest reunion theme at www.familyreunionhelper.com while drinking a frosty, cold, mug of Uncle Richard's homemade root beer.
Aunt MO
"One of life's greatest mysteries is how the boy who wasn't good enough to marry your daughter can be the father of the smartest grandchild in the world."                                                           unknown