At our western themed family reunion we created our own pool noodle ponies. Everyone, no matter what their age, made a pony until we had a whole herd of them. DIY pool noodle ponies are a great activity for a multi day reunion. We had the whole first day to create our ponies and used them for fun activities on the second day.
For each pony you need one swimming noodle the skinnier ones work best and you can usually find them for $1.00 at dollar stores.
twine or yarn
felt (9 x 12 sheets work well)
large wiggly eyes
low temp glue gun and glue
scissors
Permanent markers
Decorations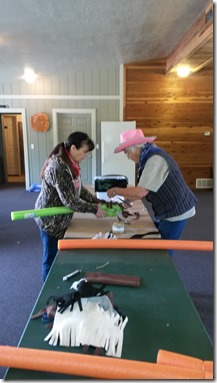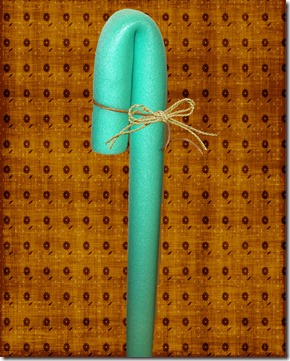 For your ponies head, bend the end of your noodle over and use twine or yarn and tie tightly to hold in place. This will be the ponies bridle. Attach a longer piece of rope to make the reins. You may want to braid this part of the bridle or add bows etc.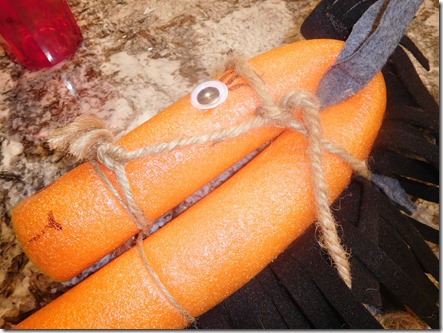 For the mane of the pony make a slit, about 1/2-1 inch deep, into the pool noodle with a box cutter, pocket knife or one side of a pair of scissors. Cut felt so it is fringed on both edges then stuff the felt (center first) into the slit.
The felt will stay put without gluing.
Cut another strip of felt with points on both ends to make the ears. Put the ears under the bend of the head and pull upward.
Encourage pony creators to be creative. Provide permanent markers, stickers and jewels and see what they create. We have found that the more time you give them the more creative the ponies got. We even got a long necked giraffe (made from two pool noodles).
Finally, put together a rodeo or horse show for your horses to compete in. Give prizes for
Helpful hint- If you have a large crowd making ponies, write names on your trusty steeds. Although each is unique they may still be difficult to pick out of the crowd.
For more fun ideas for your western themed family reunion or party check out familyreunionhelper.com