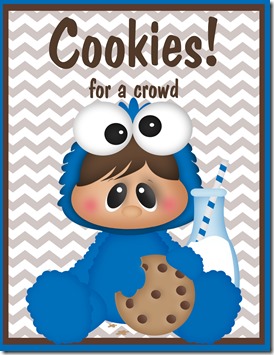 My husband has a favorite cookie recipe that he remembers from his youth.  These cookies are great for family reunions because they make about 120 large cookies and they keep really well- oh, and they have chocolate chips in them.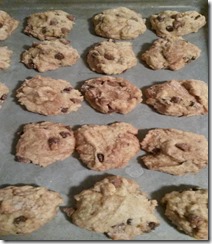 It's been awhile since we made them and my husband got the urge to mix up a batch last week.  Unfortunately we couldn't find the recipe.  I searched online thinking- no big deal you can find any recipe on the web- wrong.  This recipe is not there!  (Well, now it is.)  Eventually we found the recipe and my husband made this huge batch of delicious cookies.
I'm including the recipe in this blog just in case you want to whip a batch of cookies for your family reunion or gathering.  I'm not sure how many generations of Stewarts have made this cookies but there are some oddities with  the recipe that I will  try and clarify.  Actually, there are no instructions for mixing these cookies- I just use the traditional- cream sugar and shortening and eggs etc. method.  Here's how we do it:

Sour Cream Cookies
Ingredients
1 pound brown sugar (1/2 of a 2 pound bag)
1 1/2 cups shortening
2 cups sour cream
4 eggs
2 tsp. vanilla
1 heaping tsp. soda
1 heaping tsp. baking powder  
6 cups flour
1 cup chopped nuts
1 large bag coconut
1 jumbo (2 regular bags) sized package chocolate chips
HEAT oven to 350°F.
BEAT shortening and sugar in large bowl with electric mixer until light and fluffy. Add sour cream, eggs and vanilla; beat until well blended. Add flour, baking powder, baking soda; mix well. Stir in chocolate chips, coconut and nuts.
DROP tablespoonfuls of dough into 1 cup granulated sugar and 1 tsp. cinnamon and roll until lightly coated.  Put dough, 2 inches apart, onto greased baking sheets.
BAKE 12 to 15 min.- do not over bake.