When I decided on a space theme for our 2020 family reunion, there were two activities I was sure I wanted to do. The first was moon stilts (I'll write that bog when I get some good photos) and the second, was water bottle rockets.
Our family has a big party every Independence Day and one our traditions is making and launching water bottle rockets. We invite all of our guests to make a water bottle rocket and bring it to the party but, for our reunion, I'll bring the supplies, poster board, duct tape, markers and bottles and let reunion goers make their rockets on site.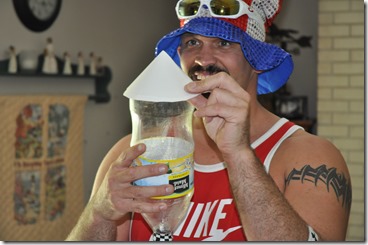 Basically, to build a bottle rocket, you start by rolling a piece of paper into a cone shape and attach it to the bottom of an empty 1 or 2 liter plastic bottle. To help your rocket fly, you need to cut out 4 cardboard triangles to make your rocket fins. (There are lots of videos on YouTube to walk you through this process.)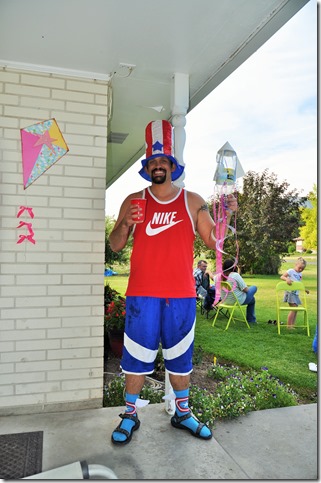 At our Independence Day party, our seasoned rocket builders come up with some pretty creative designs for their rockets . Most add parachutes to soften the landing and some even include small, plastic toys that they send into space. No matter what the design, spectators love to watch the rockets blast off and their landings can be quite exciting.
For safety reasons, we only let adults operate the launcher. We have a homemade launcher and one we purchased from Amazon. Both work great but, keep in mind when planning your reunion, that you need to have a water source and hose available to fill the rockets with water.
At our reunion this year, we will give prizes for best design, most unusual design and most creative design. We will also give an award to the rocket that stays in the air the longest which we will determine by timing with a stopwatch on our phones. At our Independence Day parties, that award has been won by my son in law for the last 4 years. He's a very talented engineer and his rocket designs are quite impressive and fun to watch.