I once attended a fireworks show that put music to their fireworks display and it was my favorite works show ever!  It seems that most of the bigger show are doing that now and with a little bit of effort you can put together some great songs about "America" for your family reunion, party or family get-together too.  Because families are so eclectic I tried to include something for everyone.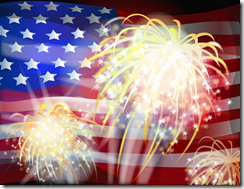 Here's a list to get you started:
"Living in America" by James Brown
Start your Independence Day party off right with some good dance music.  One of those "earworm" songs that gets stuck in your head.
"America the Beautiful" Ray Charles
No one does it better!

"Only in America" Brooks and Dunn
"Where we dream as big as we want to
We all get a chance
Everybody gets to dance
Only in America"
"Back in the USA"  Chuck Berry
This song is a classic.
"Courtesy of the Red White and Blue" Toby Keith
Toby Keith got a lot of grief over writing this song. It was written after the 9-11 incident, and helps us remember that there are men dying so we can sleep at peace each night.  And don't forget Toby's other great song, "American Soldier".
"Arlington" Trace Adkins
This song songs tells of war from a soldier's perspective after he has died in battle.  Listen to the words, it always gets to me.
"This Country Stands" Dyer Highway
Good song from a new group, brother and his two sisters, all under 18 years of age.

"America Saturday Night" Brad Paisley
Sums up America's diversity and how we embrace the traditions and cultures of America's people.

"Born in the USA" Bruce Springsteen
A 4th of July classic- perfect for your fireworks show.
"God Bless the USA" Lee Greenwood
I teach this song to my music students every year and you'd think I'd be sick iof it by now but even though it came out 25 years ago it still makes me proud to be an American every time I sing it. Some people refer to this song as the "unofficial" national anthem.

"Sweet Home Alabama" Lynyrd Skynyrd Band
Well, it's a song about one of the great states in Aerica and I just love the music!  And besides what's a party without some Southern Rock!
Keep on Rocking in the Free World by Bon Jovi
This song has become a classic fireworks songs for Independence Day
"Fightn' Side of Me" Merle Haggard
In this song Merle Haggard talks about how everyone has the right to stand up for what they believe, but don't run down the country.
"Some Gave All" Billy Ray Cyrus
A heartfelt performance on this loving tribute to the men and women that fight for our freedom each day which has nothing to do with "boot scootin'".
"If You're Reading This" Tim McGraw
The song tells the story of a soldier that has passed on, and his wishes on how he'd like to be remembered, and where he'd like to be buried. 
And finally, though not technically a song-
"America, Why I Love Her" John Wayne
Even as I put this list together I realized that I was leaving out some great American music.  Share your favorites and I'll add them to the list.
Happy Independence Day!
Aunt MO