8 1/2 days until school is out and summer begins- but who's counting?  ME!!!  What a fun time of year!  Memorial Day marks the beginning of summer and the family reunion season and to help you with your family reunion planning www.familyreunionhelper.com is offering $5.00 off any of our reunion themes until midnight, May 31st.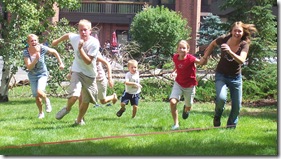 First step is to select the family reunion theme that best fits your family.  Each reunion theme comes with free downloadable games, activities, recipes, printables and templates to simplify, inspire and  guide your reunion planning. Our extensive collection of family reunion and theme party idea packages will provide everything you need for a great reunion!  And now, to jump start your reunion, all family reunion packages are $5.00 off.
You will need to  login or enter your credit card information before you can enter coupon code reunion2010 and receive $5.00 off your reunion package.
Here's to summer and family reunion season!
Happy Memorial Day!
Aunt MO