I love children's literature. I appreciate those authors that can pen a good story and admire the illustrators who can bring the story to life through their art. When our elementary schools have a book sale, I am right there looking for a new children's book to add to my collection and I love rainy days because my children aren't as busy and will cuddle up and read with me. It has been a tradition in our family to purchase a new children's book every Christmas season for our book basket.
As I was reorganizing my little "library", I noticed that I had collected several books about family reunions. Some of these books are precious gems that I think most families would enjoy reading together whether it's a rainy day or not.
My favorite is a book by Patricia Polacco called "When Lightning Comes in a Jar"
12.00 at Amazon
In the beginning of the story Trisha's family is coming for a family reunion. At the party Trisha meets Lydia and Sandy and they eat gazillions of Jell-os and Meatloaf, that are each a different kind that represents each of the Aunts cooking. Then after they eat they have their annual baseball game, croquet, bag races, Watermelon- seed -spitting contests, and rides on grandpa's horse. They also see how tall everybody is. But Grandma promises that this year she will share a new family reunion tradition- lightening in a jar. I love the quote Ms. Polacco put at the end of her book. "We need to put the lightening of our stories and our heritage into the jars of our children's minds so that they, in turn, can pass them on to future generations."
Amazon- $6.99
My second favorite family reunion book is also by Patricia Polacco. I love the illustrations in this book. It's about Great Gramma Anna who left Russia to come to New York City, with only the clothes on her back. Soon she had outgrown her dress and babushka and her mother used these and other family member's old clothes to make a colorful quilt. "It will be like having the family in back home Russia dance around us at night." The only colored illustrations in this book are the parts of their clothing that are used in the quilt. As author Patricia Polacco explains, this quilt tells the story of her family from generation to generation, and has been present at all their life events, births, deaths, weddings and other special family celebrations. It is the glue that binds her family together.
$15.95
Everyone in the Puckett family loves music, plays an instrument and sings. But every time Emma Jo tries to sing the family's old hound dog raises a terrible howl — no matter how softly she sings! Then comes the day of the big Puckett family reunion with its sound of fiddles, banjos, and kinfolk singing. When Emma Jo's brother suggests that she get up and sing "This Little Light of Mine", she jumps up, faces a whole houseful of Pucketts, opens her moth to give her song voice — and lets out a quivering squeak. However, all eventually ends well when Emma Jo gets a little help from a friend. Kind of a silly story but since it combines music and family reunions I have to claim it as one of my family reunion favorites.
Amazon- $7.99
My favorite part of this story is the last line, "When they finally had to leave, they were sad, but not for long. They all knew they would be together next summer." Children are always sad to give up their playtime with favorite cousins but if you have an annual family reunion like we do, they always know they can be together "next summer".
"The Relatives Came" is story of relatives from Virginia (who leave when their grapes are almost purple enough to eat but not quite) and come for a visit. They stay for "weeks and weeks". Can you imagine as family reunion that lasted weeks and weeks? I wouldn't want to be in charge of the food at that gathering.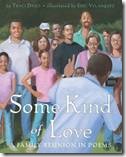 Amazon- $13.49
A new addition to our library is, "Some Kind of Love: A Family Reunion in Poems" and is author Traci Dant's first book. I love the poetry in this book and the illustrations are beautiful. One line in her poem, "Come Home" says, "Must be some kind of love that moved my Grandma to say, Always come home. Come home so I can see your faces." Now doesn't that sound just like something a Grandma would say? This is a book that gave me pause to reflect. .
Any of these books would be a fun "quiet time" activity for the children at your family reunion. Invite Grandma to read a story to the children and then maybe she'll tell a few stories from her own childhood and memories from family reunions when she was a girl.
Aunt MO