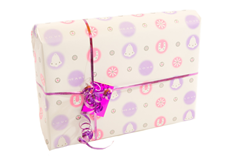 When planning your next family reunion or party you will want to plan some fun "getting to know you" games. Here's a fun idea to get to know a little more about your relative.
Wrap a gift of some kind that would be fun for any family member at your reunion or party. preferably something that goes along with your family reunion theme.
You don't need to sit in a circle or in any organized order. In fact, you can play this game as you are eating a meal or waiting for an activity to begin. The important thing is that everyone can hear the poem as you read it so they can pass the gift around as directed.
The following verses are just ideas to use for your poem. You can easily write your own verses and even target specific members at your family reunion.
Getting To Know You Poem
Take this gift-now don't be shy!
Give it to someone with blue eyes.
Yes, you are the lucky one
But give the gift to someone who has a teenage son!
Look around from seat to seat
And give it to one whose cooking can't be beat.
Some of us are tiny and small
but give the gift to the one most tall!
Next look for someone that has the newest wife
and give it to the love of his life.
Birthdays come and birthdays go
Give this gift to the oldest person you know.
Don't let the gift get out of sight
Give it to the person sitting on your right.
The longest hair will win it now
If you have long hair, step up and bow
The gift goes to someone with a college degree
a good education pays off we can all agree.
The one with the most buttons of any kind
Will get passed the gift right now, this time.
We should stop now, it's really time
The gift is yours to keep and everything is fine!
You'll find lots of fun ice breaker games here
Aunt MO
"The grass isn't greener on the 'other side', the grass isn't greener on your side. It's Greener where you water it."