If you're looking for a fun party idea consider hosting  a "Minute to Win it" party.   "Minute to Win it" is a low stress, fun way to have a party.
The television version of the game makes hosting a "Minute to Win it" party fairly simple. You can do most of the preparation in advance so on the day of the party there is very little last minute running around.
The first step to planning a "Minute to Win it" party is to select the games or challenges you want to include.  Go to the "Minute to Win it" website and search for games by Name, Most Viewed or Most Popular.  Use this link to go to the website.
http://www.nbc.com/minute-to-win-it/
After choosing the games download the instructions included on the website.  For instance, for our party we played "Hanky Panky".  You find the video of those instructions here-
http://www.nbc.com/minute-to-win-it/how-to/episode-120/hanky-panky/
Using these videos makes explaining the rules of the game easy- you just play the video!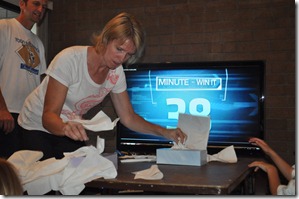 We also downloaded a video clock so that we didn't need to use a clock or timer- we just started the video.
Having this video timer made the competition fun for everyone- spectators and competitors.
Some of our challenges were held inside for a few we had to mve outside.
My brother, Lee, who organized the "Minute to Win it" competition was very organized so we didn't have to wait while he found the props he needed.  Lee also separated the family into teams, mixing everyone up, not keeping families together.  Of course the winning team did get a prize to share.