Creating a family slide show or video is fun and with all the tools available surprisingly easy.  Whether you're reunion is being held at a resort or at a casual retreat, there's no better way to take a stroll down memory lane than with a reunion slideshow or video presentation.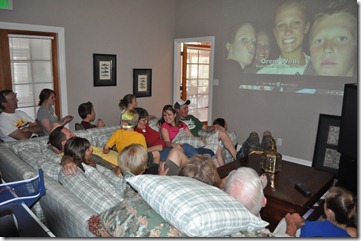 We've been making and showing slide shows at our family reunions for years now and have witnessed for ourselves the evolution of the slide show from the old photo slides and projectors to power point and movie maker presentations projected on wall sized screens.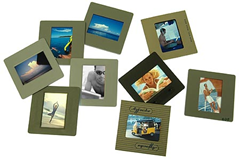 When making your slide show don't make it too long-15 minutes is about right and you stretch it to 20 minutes if you keep your background music upbeat and catchy.
Be sure y0u include at least one photo of every member of your family.  Review the photos you plan on using to be sure you aren't featuring one dominant person in your presentation.
Background Music is Important
Through the years we have come to realize the importance of the music used as background music behind the photo presentation. Music has the powerful ability to set the tone of your slide show and evoke strong feelings of good family memories.
When making a  family reunion slideshow or video you have to be able to put aside your own music preferences and select music that Grandma will enjoy (and can understand the lyrics) and music your teenagers will be able to bear.  I prefer upbeat music for most of my slideshows with one slow, sentimental song to really cement the memories.
Family Reunion Slide Show Music
When I thought about writing this blog I wondered what I could do to help a slide show makers job a little easier.  I decided that perhaps a list of good slide show background music might be helpful.  So listed below are some of the good old music "standards" we have used in our family slide shows throughout the years.  Just click on the song picture to download it for your presentation.
A good opening song might be "These Are My People" from Rodney Atkins.
"This is where I come from
Were givin' this life everything we got and then some
It ain't always pretty
But its real
It's the way we were made
Wouldn't have it any other way
These are my people"
"Firework" has a great message about how we are all important and can light a the world light a firework.  But it also has a catchy, upbeat tempo and your family will probably sing along with it.
If you want to feature Grandma and Grandpa in your slide show consider using Josh Grobin's "You Raise Me Up" as tribute to these great people in your lives.
There was a time when I was making a lot of slide shows and "We Go Together" from the movie Grease seemed to be a great song for the end of the slide show.  It is upbeat and gets across the message that we're family and "We Go Together".
My family loves swimming and watersports so our family slide shows always include a lot of "water" pictures.  More often than not I look to the "Beach Boys" for good background music for these kinds of pictures.
"Let Them Be Little" by Billy Dean or Lonestar is a great song for showing baby pictures or pictures of the "early" years.  With the right pictures this song will bring tears to the Moms and Dads in your family.  Of course there is also "Through the Years" by Kenny Rogers and "Sunrise Sunset"  though I think these last two songs have been over used.
It's pretty hard to beat Rascal Flatts "My Wish" for sending out a powerful message to your family.  Be careful to not use pictures that will make people laugh when they see it- you don't want their laughter to cover up the beautiful lyrics of this song.
"But more than anything, more than anything,
My wish, for you, is that this life becomes all that you want it to,
Your dreams stay big, and your worries stay small,
You never need to carry more than you can hold,
And while you're out there getting where you're getting to,
I hope you know somebody loves you, and wants the same things too,
Yeah, this, is my wish."
"Voices" by country artist Chris Young, is about all the things we hear from our family and how we hear their "voices" as we go throughout our lives.  Be sure to check out his music video of the song for some great family reunion video ideas. http://www.cmt.com/videos/chris-young/538509/voices.jhtml
You could say I'm a little bit crazy
You could call me insane
Walkin' 'round with all these whispers
Runnin' 'round here in my brain
I just can't help but hear 'em
Man, I can't avoid it
I hear voices
I hear voices like
My dad sayin' quit the team
And you'll be a quitter for the rest of your life
Mama tellin' me to say a prayer
Every time I lay down at night
And grandma sayin' if you find the one
You'd better treat her right
Yeah, I hear voices all the time
If you have lost someone dear in your family during the year since your last family reunion you my want to include a segment of pictures of them in your slideshow using Frank Sinatra's "My Way" as background.
For more current music substitute "My Way" for Brad Paisley's "When I Get Where I'm Going".
"Yeah when I get where I'm going
There'll be only happy tears
I will shed the sins and struggles
I have carried all these years
And I'll leave my heart wide open
I will love and have no fear
Yeah when I get where I'm going
Don't cry for me down here"
And if all else fails and you just can't come up with a song you can always use "We Are Family" by Sister Sledge.  It may have been overused but you just can't beat it's catchy beat and meaningful lyrics.
"All of the people around us they say
Can they be that close
Just let me state for the record
We're giving love in a family dose"
Use  a Projector for a Life Sized Slide Show
When I started doing family reunion presentations to civic and church groups it became necessary for me to get a projector that would project large images on the wall. My projector isn't fancy with a lot of bells and whistles but so far it's been just perfect for what I need it for.  A projector like mine may be just the thing to show your side show on for your family reunion. 
If you're going to make a slideshow for your reunion, make sure you budget enough time to put together a good production. Don't underestimate your show's ability to influence people's overall impression of your family. Sharing and reliving memories is a powerful thing!
Aunt MO