Getting to Know You Game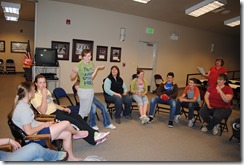 Take a bag of M&M's or Skittles candy and tell everyone to grab a handful…or specify a number (I prefer this if you have a large group so it doesn't take so long- I suggest each family member take 4 or 5 candies) You might also choose to split up in smaller groups such as children under 12, 12 and over, young adults etc. if you have a larger group such as a family reunion.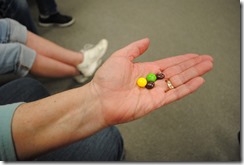 Assign a different meaning to each color, blue= family, green=hobbies, yellow=animals, brown= work or school etc. Participants must tell one thing about themselves for how many candies they have in their hands using the colors as their guide. They may also eat them as they share their information. ("Blue…I have two sisters.", then eats the candy. "Yellow…I have a dog named Kodi.", and eats the candy etc.) If you have two or more of the same color you have to tell one thing per candy regardless the color.
This is a good ice breaker because you can play it as soon as your party is supposed to start and those that come a little late can participate when they arrive.
A slight variation to the game is have participates tell things that make them, happy, sad, angry, excited or afraid.