It has become tradition at my house to have "funny" food for one of our April Fools Day meals.  For many years I made "Flannel" pancakes.  I don't know why but I fooled my family for probably 5 years in a row with my flannel pancakes. 
This year I have the greatest idea ever- actually I got this idea from my friend and amazing hair stylist, Stephanie.  How about cauliflower mashed potatoes?!?! 
Mashed cauliflower looks and some people say the taste is similar to mashed potatoes but with fewer carbs. I experimented with making mashed cauliflower so I would be ready for April Fools Day and I have to tell you it's pretty delicious.  I think once my family gets over the shock of their mashed potatoes actually being mashed cauliflower they'll be happy I made it.
If you're not sure your family will get fooled by Mashed Cauliflower give one of these other fun ideas a try.
Mashed Cauliflower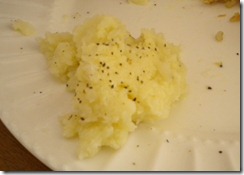 What you need:
1 medium head cauliflower, trimmed and cut into small florets (about 6 to 7 cups)
1 to 2 tablespoons extra virgin olive oil
Sea salt and ground black pepper to taste
Bring a large pot of salted water to a boil. Add cauliflower and cook until very tender, about 10 minutes. Reserve 1/4 cup of the cooking liquid and then drain well and transfer cauliflower to a food processor. Add oil and reserved water, 1 tablespoon at a time, and mash cauliflower with a potato masher. Season with salt and pepper and serve.
Flannel Pancakes

When cooking pancakes put a piece of white flannel, about 3"x3", and cook as usual. Flannel makes pancakes impossible to cut and eaters will become quite frustrated until they realize they've been fooled. This is an easy trick to do when serving many people. Put one flannel pancake on a plate with two or three other pancakes.
Non-drinkable Juice

What you'll need:
Clear drinking glasses, Jell-o, Straws
The night before make some jell-o in clear juice glasses.  Use a flavor that matches the juice they drink – such as grape, orange etc. Fill the glass about ¾ full and after it starts to set, insert a drinking straw. Once it is set, it will look like a normal glass of juice with a straw in it. Simply set it at their place at the breakfast table.  Provide spoons so they can eat the gelatin when they realize they can't drink it.
Wormy Apple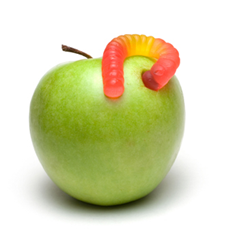 What you'll need:
Fresh apple, Gummy worm
Use an apple corer to remove a piece of the apple and insert a gummy worm.  The worm will be hanging out some.
Make a naked egg.
Simply by soaking it in vinegar, you can remove the shell from an egg, even an uncooked one, leaving the rest of the egg intact. Imagine someone's surprise when they reach into the egg carton and extract a real raw egg that is squishy and elastic!
Silly Utensils

Instead of using traditional plastic utensils use kitchen utensils to eat with such as an ice cream scoop, a spatula, or pancake turner, the stranger the better.
Aunt MO
Fool me once, shame on you; fool me twice, shame on me.  ~Chinese Proverb