Bake your cakes according to the package directions. Don't fill your pan any fuller then 1/3 full. You don't want the cake to go up over the edge of the pan. You're looking for a large round flat cake.
Frost cake with red frosting.  If you are using canned frosting heat for a few seconds in the microwave to make it spread easier.
Grate white chocolate and sprinkle the shredded white chocolate on top of frosting.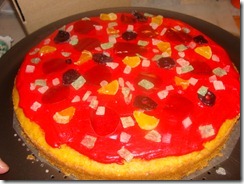 Cut circles out of red fruit roll ups for the pepperoni, use a small bottle cap to get the round shape. It's easier if you cut the fruit roll ups before you remove them from their backing. After you cut your pepperoni, remove the backing and stick them on the pizza.
Make banana peppers by slicing a thin strip of a yellow fruit roll up. Stick the ends of the strip together to make a loop.
To make onions, pineapple and green peppers roll gum drops or gummy candy until flat and cut into small bits.
Make black olives with black gum drips and use a paper punch to make a hole in the middle.
Serve your "pizza" on a pizza pan or a pizza box.