The delicious way to paint.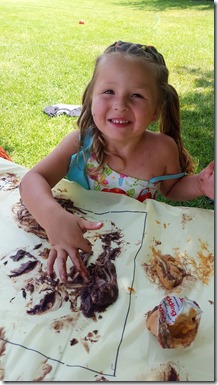 What can I say- pudding painting is a very messy, very fun activity. It's perfect for days that you have planned a water slide or sprinkle under the trampoline activity because it makes clean up super easy!
The first time I did pudding painting was in the 80's when I had a cousins party for all my nieces and nephews and they still talk about how fun it was. Most recently, I had a pudding painting party with my grandkids and they had a ball.
There are a couple of ways you can do pudding painting. You can mix up your own pudding (vanilla is great because you can add food coloring to make different colors) or you can buy the already made puddings in the single serving containers.
This was an activity I did outside on a table covered with a plastic table cloth. I gave each child a large sheet of paper (like teachers use on their bulletin boards) and let them paint away.
Over the years I have found that some children do not like getting their hands messy so I like to provide other "tools" for them to use. Things like spatulas and larger paint brushes work well.
When kids are done painting you can let their paintings dry in the sun and if you have planned a water activity,they'll be all cleaned up in a splish and a splash.