Coming in 2020
My family is in charge of our Stewart family reunion this year. It's been 5 years since my family has had this responsibility. (The Stewarts rotate each year and now it's rotated back to us!) I'm excited to take our turn again but already a little tired and yes, I've started planning.
I had an idea… how would you like to follow us along as we plan this new reunion. Check out our progress and maybe find a few good ideas for your reunion too.
The very first thing we did was choose a theme and the theme for this reunion is TA DA- Our Family is Out of This World, a space theme. We felt that a space theme would go along with the 50th anniversary of Apollo 11. Also; three family members worked on the Space Shuttle, when there was a Space Shuttle program, including the patriarch of our family. Besides the picture below, we also have a photo of Grandpa with an astronaut that we will enlarge for display at the reunion.
We already have the date for our reunion, Labor Day, and the location, a campground and we've told everyone to "save the date" so now it's time to start gathering ideas.
I like to keep a file of all my ideas and a great way to do that is on Pinterest. I created a Space board and add every good idea I find to that board. I like to get as many quality ideas as I can for the next couple of months and then we'll choose our favorite ideas and start putting together a schedule.
Take a look at these fun ideas:
This solar system necklace is so cool. It would be a great idea for an ice breaker activity as family members arrive or for some down time on a hot afternoon. The idea comes from https://www.handmadecharlotte.com/make-a-stellar-solar-system-necklace/
We also need to turn our name badges into "astronaut in training" badges.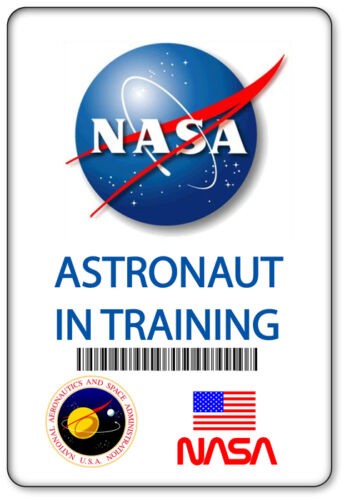 I thought these signs would look cool on the bathroom doors. They're from catchmyparty.com.
Family members have asked if we can do a murder mystery (I've written several for our reunions and they're lots of fun) and a talent show, two activities I need to get to work on so I don't have that last minute cram the month before our reunion. (I really don't like that)
I hope you'll check back often and see how the planning is going. I'll keep posting our planning and progress and hey, if you have a fun "space" idea, let me know!