A pretty sweet printable game- and it's free!
Whenever I plan a I party or a family reunion I like to have an activity or game that people can play when they first arrive. The goal is to get family members, or friends, laughing and talking with each other. The "How Sweet It Is" free printable fits the bill and coming up with prizes for the winners is a snap- candy bars! I suggest the snack size because you'll probably have several winners. This ice breaker game is great for large or small group games and for family members of most ages. You can download the free printable by clicking below. Don't forget to download the answer key.
Nature Scavenger Hunt- fun activity for your family reunion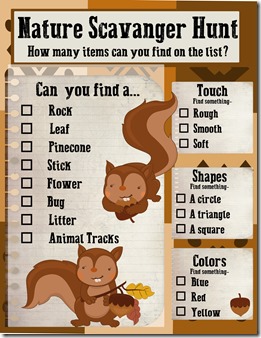 If your family reunion location is at a park or a campground this Nature Scavenger Hunt is a wonderful excuse to get outside, have some fun, and spend time together as a family.
Just print off our fun Scavenger Hunt printable on heavy cardstock and give everyone a copy along with a pencil and let the fun begin. You can work as teams or individually, it can be a race or a contest to see who finds the most items. Allow everyone an opportunity to show off their favorite find.
You can find the link for our Nature Scavenger Hunt below- or right-click on the picture above, save it to your computer, and print.
A Delicious Idea From My Nephew, Brayden, for Your Family Reunion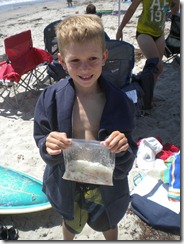 Sometimes I get in a rut- I forget that some people don't pack up and head for the mountains when they plan a family reunion or family gathering- instead they head for the BEACH! And it was to the beach we went for a fun family party with my brother and his family.
We packed up the surf boards, sunscreen and mashed potatoes- yes, MASHED POTATOES! "Potatoes in a bag" is a fun and easy tradition Uncle Brett and Aunt Lisa have implemented in their family and would be a yummy idea for your family reunion no matter what location you choose.
Most of the prep for "Potatoes in a bag" was done at home. Everyone measured 1/2 cup potato flakes in a plastic baggie and added their favorite "mix-ins" to give their bag of potatoes their own special flavor.
At the beach, Uncle Brett heated up the water in his portable heater. When the water was hot we added 1 cup to our bag of potatoes and squished it up in the bag until it was well mixed and creamy. The potatoes were delish! The beach was chilly and wet, and the hot potatoes were a welcome treat.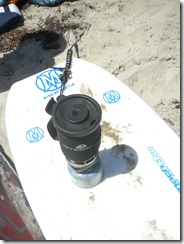 Directions: Mix 1/2 cup of potato flakes with 1 cup boiling water. Stir until blended. Add your favorite mix-ins: salt, dry ranch Salad dressing, dry onion soup mix, Butter Buds, dried parsley flakes, beef jerky pieces, diced cheese stick and a beef stick. For thinner potatoes, add more water; for thicker, add more flakes.
If you've done eggs in a bag at your family reunion I think you'll have fun with this idea. Set out all the ingredients and mix-ins and let your family create their own delicious mashed potatoes. Your bigger eaters may want to use 1 cup of potato flakes with 2 cups of water.
Thanks, Brayden, for a delicious family reunion idea! And if you're looking for fun beach themed ideas for your family reunion, check out our Beach family reunion for lots of fun in the sun ideas.
Aunt MO
NOTE: Whenever you add boiling water to your baggie, always use heavy-duty or freezer zip lock bags. Although there have been no claims of injury or illness, Ziploc® states their baggies are not intended to be used at high temperatures, so use at your own risk.
Be Sociable, Share!
A Family Favorite Recipe
I keep seeing pictures like the one pictured above, on Facebook. People are posting their pictures of mounds of Zucchini and I gotta say- I AM SO JEALOUS! My husband grudgingly lets me plant one hill of Zucchini each year but this year the bugs got it and the plant died. So here I sit, writing a blog about one of our families' favorite recipes with no Zucchini in sight.
It actually scare me a little to say that, if my neighbors see this post they may want to share their zucchini with me (that would be awesome) but as Paul Harvey lamented in his dirt road commentary, "At the end of a Dirt Road, the only time we even locked our car was in August, because if we didn't want some neighbor to fill it with too much zucchini. "Bring it on , neighbors!
If you're one of the lucky ones with a sink full of Zucchini you might want to try this delicious recipe for Zucchini bread. This recipe is in our family cookbook and is a favorite at our family reunion fundraising auctions.
I always use half oil and half applesauce but if I'm looking for a healthier option I will leave out all the oil and substitute it with more applesauce. It's still delicious but not quite as moist.
This recipe differs from other Zucchini bread recipes because it has cinnamon, nutmeg and ground cloves in it.
I usually make my Zucchini bread in small loaf pans and then I wrap it in tin foil and put it in the freezer. My husband likes to take it in his lunch and the smaller loaf size is just right. I also make Zucchini muffins from this same recipe.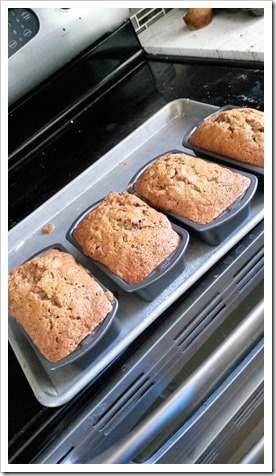 Ingredients
3 cups all-purpose flour
1 teaspoon salt
1 teaspoon baking soda
1 teaspoon baking powder
1 tablespoon ground cinnamon
1 teaspoon ground nutmeg
1/4 ground cloves
3 eggs
1/2 cup vegetable oil
1/2 cup applesauce
2 1/4 cups white sugar
3 teaspoons vanilla extract
2 cups grated zucchini
1 bag MINI chocolate chips (must use Mini chips)
Directions
Grease and flour two 8 x 4 inch pans. Preheat oven to 325 degrees F
Sift flour, salt, baking powder, soda, and cinnamon,nutmeg and cloves together in a bowl.
Beat eggs, oil, vanilla, and sugar together in a large bowl. Add sifted ingredients to the creamed mixture, and beat well. Stir in zucchini and chips until well combined. Pour batter into prepared pans.
Bake for 40 to 60 minutes, or until tester inserted in the center comes out clean. Cool in pan on rack for 20 minutes. Remove bread from pan, and completely cool.
In our family, I'm famous for my Jell-O making and my Zucchini bread- hope this becomes a family favorite at your house too.
Aunt MO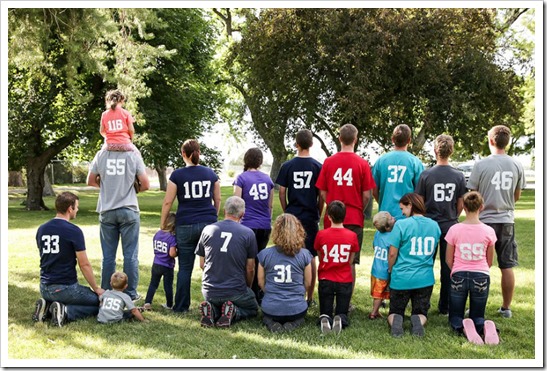 I LOVE family reunion T-shirts! They are the ultimate "party favor" or "souvenir" that family members can take home with them after the reunion fun is over. Reunion T-shirts are a reminder of the good times had at that years family reunion.
There's a new reunion T-shirt trend going around and I think it's great! We used to take family pictures at our reunion like the one below (we used paper plates with numbers on it).
But now, families are having fun applying this idea to t-shirts. Each family has a different color, and each t-shirt gets a number on the back representing the order you joined the family (through marriage or birth).
You can have each generation be a color and the in laws all have their own color as well. Then, every person is either numbered according to birth order (by generation) or by when they married into the family.
If there are people at the reunion who aren't yet married into the family, you can give them a shirt with a question mark on it as in, who will be the next lucky member of the family?"
When it comes to figuring out what number everyone is your most valuable resource will be the matriarch of the family. Make a list of each family member and when they became part of the family. You may want to ask your family to email you their birthdates and anniversary to make sure your list is accurate. Email the completed list to your family so they can double check your numbers.
A common design for the front of the shirts is a fun idea. You may want to have a t-shirt company print the common design on the front of each shirt and then apply the numbers yourself, especially if you are doing multiple colors.
Of course, you'll want to take a family picture. Take a picture with everyone facing forward and then do a second photo of the back of the shirts. I just love this latest trend in family reunion t-shirts. If you decide to do this at your reunion, send us a photo and we'll feature your family on our website.