Perfect for permanent displays at Grandma's house or temporary displays at a family reunion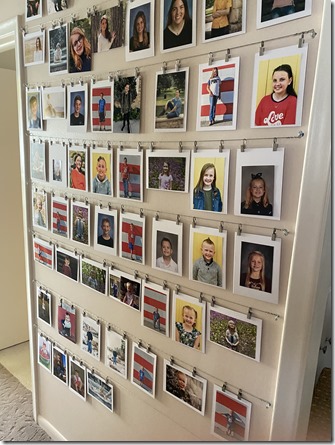 My mother in law is grandma, great grandma and great great grandma to over 100 children. She does a wonderful job at remembering their names, their birthdays and anniversaries. "Cookie Grandma", as some of her great grandkids call her, has worked hard to keep pictures of her prosperity hanging on her wall.
At first, she kept frames of all of grandkids on her wall but there are so many kids and they changed so much that it became a real chore to change photos and rearrange the frames every time she got a new photo.
Through much trial and error, I think Cookie Grandma finally found the perfect solution to hanging all those photos. Now, she uses photo/curtain clips and wire.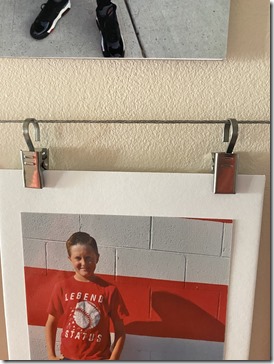 Each photo is glued to a piece of poster board or heavy card board and can easily be changed by merely turning the card board around and gluing another photo on it. The clips she used are inexpensive and simple to use.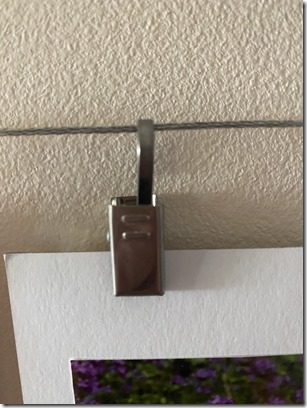 You can purchase the clips here by following this link
Hanging the wire was simple and didn't put near as many holes in the wall as hanging frames. Grandma did get some help with this part of the installation.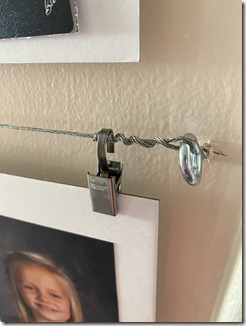 This is great idea to hang photos in any home but I also thought it would be a fun way to hang photos at your family reunion. It could be an easy way to display photos of ancestors, of a past reunion, or a way to honor those that have past. Of course, you shouldn't be screwing eye bolts into the wall of your conference center or into a tree, but a piece of string tied between two posts would work perfectly with these clips. And look at the cute LED photo clips I found on Amazon.
Photo clips make it so easy to swap out and rearrange photos and it was the perfect solution for Cookie Grandma to display all of her posterity.