Now that you have chosen your family reunion theme and planned your games and activities you've got to figure out a way to feed all the hungry people that will show up at your reunion.  For many folks the most important part of the family reunion is the – FOOD!
Feeding a 100 family members can be tricky and so I was thrilled when Marilyn Hunsaker shared her "Cookie Sheet Apple Pie" recipe at a family reunion presentation I gave recently.  Most pies serve only 6 or maybe 8 but this cookie sheet pie serves 16-20.  You will need 5   cookie sheet pies to feed a family of 100.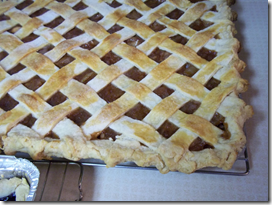 Cookie Sheet Apple Pie Recipe  (16-20 Servings)
Ingredients
6 cups all-purpose flour
1-1/2 teaspoons salt
1-1/2 teaspoons baking powder
1-1/2 cups shortening
6 egg yolks
3/4 cup plus 4-1/2 teaspoons water
3 tablespoons lemon juice
8 cups sliced peeled apples  (Marilyn uses 6- 8 Granny Smith apples)
1-1/2 cups sugar
1 cup crushed cornflakes
1 1/2 teaspoons ground cinnamon
1/2 teaspoon ground nutmeg
2 egg whites, beat until foamy
1/2 cup milk
1 cup powder sugar
Directions
In a large bowl, combine the flour, salt and baking powder. Cut in shortening until mixture resembles coarse crumbs. Whisk the egg yolks, water and lemon juice; gradually add to flour mixture, tossing with a fork until dough forms a ball. Cover and refrigerate for 30 minutes.
Divide dough in half so that one portion is slightly larger than the other. On a lightly floured surface, roll out larger portion to fit the bottom and sides of a greased 15-in. x 10-in. x 1-in. baking pan. Arrange apples over crust. Combine the sugar, cornflakes, cinnamon and nutmeg; sprinkle over apples.
Roll out remaining dough to fit top of pie; place over apples. Seal edges; cut slits in top. Brush with egg white. Bake at 400° for 15 minutes. Reduce heat to 350°; bake 20-25 minutes longer or until golden brown.
Let pie mostly cool then mix 1/4 cup milk (plus enough more to make a thin glaze) in 1 cup powder sugar.  Drizzle over the top of the pie.
Yield: 16-20 servings.
NOTE:  When preparing the apples, Marilyn will peel and slice them the day before and put them in a pan.  She adds enough water to cover the apples and bring them to a boil then she removes them from the heat and lets them cool.  Put a plate on top to push the apples down and refrigerate.  The next day drain the water off the apples and follow the recipe.