A Delicious Idea From My Nephew, Brayden, for Your Family Reunion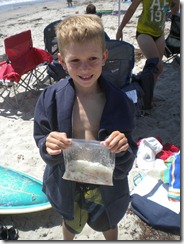 Sometimes I get in a rut- I forget that some people don't pack up and head for the mountains when they plan a family reunion or family gathering- instead they head for the BEACH! And it was to the beach we went for a fun family party with my brother and his family.
We packed up the surf boards, sunscreen and mashed potatoes- yes, MASHED POTATOES! "Potatoes in a bag" is a fun and easy tradition Uncle Brett and Aunt Lisa have implemented in their family and would be a yummy idea for your family reunion no matter what location you choose.
Most of the prep for "Potatoes in a bag" was done at home. Everyone measured 1/2 cup potato flakes in a plastic baggie and added their favorite "mix-ins" to give their bag of potatoes their own special flavor.
At the beach, Uncle Brett heated up the water in his portable heater. When the water was hot we added 1 cup to our bag of potatoes and squished it up in the bag until it was well mixed and creamy. The potatoes were delish! The beach was chilly and wet, and the hot potatoes were a welcome treat.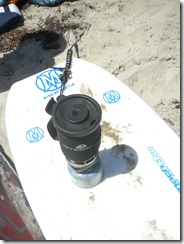 Directions: Mix 1/2 cup of potato flakes with 1 cup boiling water. Stir until blended. Add your favorite mix-ins: salt, dry ranch Salad dressing, dry onion soup mix, Butter Buds, dried parsley flakes, beef jerky pieces, diced cheese stick and a beef stick. For thinner potatoes, add more water; for thicker, add more flakes.
If you've done eggs in a bag at your family reunion I think you'll have fun with this idea. Set out all the ingredients and mix-ins and let your family create their own delicious mashed potatoes. Your bigger eaters may want to use 1 cup of potato flakes with 2 cups of water.
Thanks, Brayden, for a delicious family reunion idea! And if you're looking for fun beach themed ideas for your family reunion, check out our Beach family reunion for lots of fun in the sun ideas.
Aunt MO
NOTE: Whenever you add boiling water to your baggie, always use heavy-duty or freezer zip lock bags. Although there have been no claims of injury or illness, Ziploc® states their baggies are not intended to be used at high temperatures, so use at your own risk.
Be Sociable, Share!