Tips for a Successful Christmas Caroling Party
Gathering your family or friends together for Christmas caroling or a family sing-a-long can make your family party fun and fairly fuss free. Consider these helpful tips when planning your family caroling party.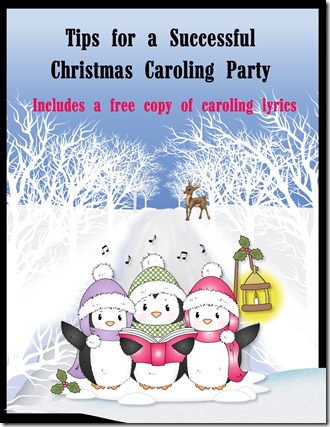 Choosing the Music
The most important element of your musical caroling party is the music and you can download a free copy of caroling lyrics at www.familyreunionhelper.com. Caroling will be successful if everyone has the same list of carols. Provide one song sheet for every 2 carolers. Specify how many verses you will sing of each song. One verse is usually enough especially if caroling with children.
To build your song list you can type and print your own caroling sheets or make copies of the family reunion helper caroling book by clicking here- caroling song book. The book is designed so that you only have to print off the music that you will use for your caroling such as- Santa songs, snow songs or spiritual songs etc.
Choose songs that are short, easy to sing, and fun. It's also best to sing upbeat songs such as "Jingle Bells" and "Up On the Housetop".You should plan on singing 1 or 2 songs per house and end with "We Wish You a Merry Christmas".
Choose your caroling route.
My family went caroling on Christmas Eve. Mom would choose 3 or 4 families that she knew would enjoy a caroling visit and she always made a few goodies to give them. (Perhaps as payment for listening to us sing off key) We would complete our caroling at a local nursing home. Many of the children were reluctant to sing at the nursing home but as the years have gone by caroling at the nursing home has become one of their most talked about memories of the season. HINT: If you visit a hospital or a nursing home, ask for permission ahead of time to make sure your visit comes at a good time and that they can accommodate a large group.
Consider Using a Variety of Instruments
Jingle bells, cymbals and drum sticks are an easy way to make your caroling fun. Carolers that are too shy or just don't want to sing can participate by keeping the beat with drum sticks or shaking the bells to the beat.
Dress for the Weather
If caroling outside dress for the weather. When sending out invitations for your caroling party be sure and let your guests know that you'll be caroling outdoors so they can bring their hats, gloves and scarves. A fun party favor for your party could be hand and toe warmers. You can dress things up by asking everyone to wear a fun Santa hat or reindeer antlers.
Plan Refreshments for Your Carolers
At the end of your caroling party meet back at your house or rec hall and provide your carolers with bowls of chili and mugs of hot chocolate and marshmallows or cider. You can keep your refreshments warm in slow cookers while you're caroling.