Build Your Own Pizza and Team Pizza Building
Most families like pizza and for many families, pizza is part of their Friday night fun, but skip ordering take out and try one of our pizza party ideas with a twist.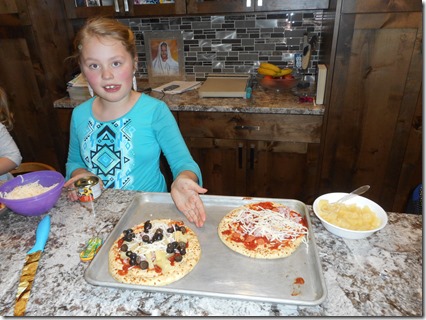 Pizza Bar
A favorite pizza activity of our kiddos is making their own own pizzas- This is a great way for kids to create their own custom pizza and you know they'll eat it because they get to choose their own toppings.
The only tricky part of a Build Your Own Pizza party is choosing the crust you want to use. You can make your own pizza dough or buy a premade crust. Pictured below are some options. We have also used English muffins, French bread or pita bread, left whole, for crust. If making your crust from scratch be sure to keep each crust "personal" pan size.
Set out popular pizza toppings. To get you started, the 10 most popular pizza toppings are listed below and are a good place to start:
Pepperoni
Mushrooms
Onions
Sausage
Bacon
Cheese
Black olives
Green peppers
Pineapple
Spinach
Our family would include barbeque chicken and Canadian bacon to that list. You might also want to consider offering a white sauce and a red sauce as options for your pizza bar.
Pizza Making for Teams
To add some suspense to a traditional pizza party, divide your family and friends into teams. Give each team a premade pizza crust, a jar of pizza sauce and a bag of cheese.
Wrap pizza toppings in gift wrap or newspaper and let each team pick 2 or 3 of the wrapped toppings. These are the toppings that they must use on their pizza. They won't know what toppings they have picked until they unwrap their packages. Decide if trading toppings will be allowed.
After all the teams have "decorated" their pizzas and baked them, set them out for all the teams to try. Cut pizza in small slices so there are lots of samples. You can even give prizes for the most delicious pizza creation.
The challenge with any pizza party is getting them baked. Individual pizzas are great because you can fit more that one pizza in your oven at a time. As pizzas bake you may want to play an ice breaker game to keep your guests entertained. You can find some our favorites HERE.