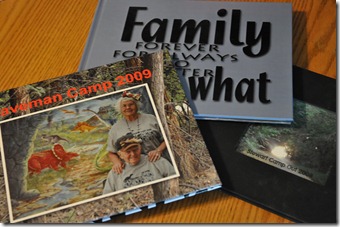 After we've played all the reunion games, roasted all the marshmallows, sang all the songs and I've taken 700 pictures of the action, I can hardly wait to get back home and see what amazing pictures I've taken of my family reunion.  I load my pictures on my computer and begin to make a family reunion DIGITAL scrapbook.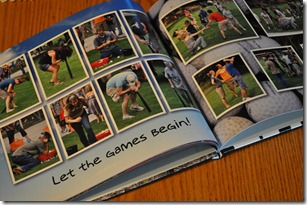 Making these reunion scrapbooks is fun for me- much less time consuming than the "olden days" when I had to measure, cut and paste everything. And did I mention the MESS- there is NO mess with digital scrapbooking. You just slide your digital photos into predesigned layouts, add digital stickers and some suitable digital paper backgrounds and and then you send it off to the printer. Setup and cleanup are literally as easy as pushing a button. Everything is contained within your computer- NO SETTING UP OR PICKING UP AFTERWARDS. 
I recently read an blog by Bradylou that lists about 10 reasons why digital scrapbooking is a good alternative to traditional scrapbooking- she has some great ideas- read her blog at bradylou.com
I always make a reunion scrapbook for myself and one for Grandma and Grandpa (taking advantage of BOGO sales.)  Everyone enjoys reliving reunion memories when they visit Grandma and look through the books.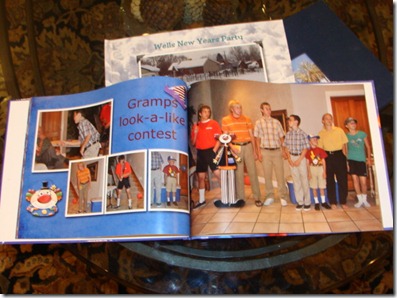 I use two scrapbook companies for my digital scrapbooks- Picaboo and Mixbook.
Picaboo Photo Books
I prefer Picaboo when I have a lot of photos I want to include in my book. Picaboo does not force you to spend hours uploading photos before you can create a project. Rather, with Picaboo installed, you can make a complete, ready-to-order book in a short amount of time. Picaboo has amazing customer service and I love their "chat" service. When I have an idea but don't know how to implement it I just chat with their helpful costumer service people.  Picaboo has cool and FREE backgrounds you can use- thousands of them- I love the pizza one pictured below.
Picaboo is running a deal this week for up to 40%.
Up to 40% off Classic books and calendars. Ends 7/16. Use code: SUNNYDAYS.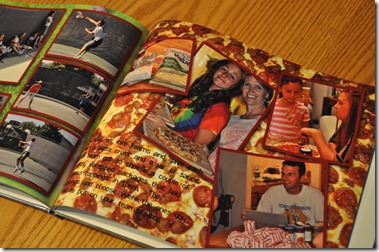 Mixbook Scrap Books
Mixbook does not require that you download their software. The feature I like most about Mixbook is that it allows you to choose one of their professional designs (or you can start from scratch) and easily and quickly create a photo book. I also like the "stickers" you can add to yourbook.  You can move, crop, rotate, pan and zoom on photos; add stickers and backgrounds; and create custom layouts.
Right now Mixbook has a deal going-
Deal:Get $15 off $50!
Code:15OFF50
Valid: 07/12/12 4:00 am PST – 07/16/12 11:59pm PST
Restrictions: This offer is only valid with coupon code 15OFF50. This offer cannot be combined with other coupons, vouchers, Groupons, or applied after an order has been placed. Discount applies only to completed projects. No adjustments on previous purchases. Shipping and taxes will apply.
Offer expires 07/16/2012 (11:59 pm PST).
Once your scrapbook is completed you can sell additional copies for family members that preorder them or auction them off at your net reunion auction as a fundraiser.
Check Aunt Mo's blog next week to find out how to make genealogy or family history photo books.