About 25 years ago I invited all of my nieces and nephew to a cousin's party at our house.  They came in the afternoon, slept over and went home after breakfast the next day.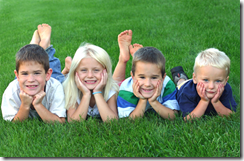 The two activities we did that those now grown cousins still remember were the pudding painting and swinging in the rope swing. 
In talking to other daring moms I found that the one thing that cousins parties seem to have in common is that there are NO Mom's or Dad's allowed.  It's just the cool aunt and uncle hosting the party that get to hang out with the kids.
If you're considering hosting a cousin's party consider adopting some of the fun ideas my friend, Jana, did at her party this year.  This is part one of a 3 part article so be sure and check back for more cousin party ideas.  Take it away Jana…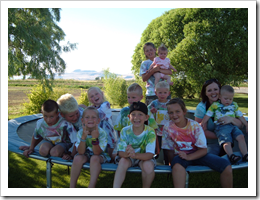 Every year I have a cousin party at my house. All my nieces & nephews come over for a day of fun, and building relationships with my kids, and their other cousins. I look for a kid's movie that is coming out in the summer, and base my party on that theme.
This year was a 'cars' party. We all meet at the movie theatre (since we live in 3 different cities) for an early matinee. We watched Cars 2, then we were off to my house. My sister in law helped drive some of the kids out to my house after the movie, then she made paracord bracelets with each of them while I got the t-shirts ready to tie dye.
By the time the bracelets were done, I was ready to start tie dying shirts with each of the kids (10 of them). We got the shirts done, took a quick picture before my 2 year old nephew left, and ate pizza for dinner. My one requirement for the cousin party is that the parents have to go out on a date that night (hey, I'm a free babysitter- they have to take advantage of that!)
Then we had a food fight (I know this doesn't go with Cars, but it's all Ryan wanted for his birthday, and since it rained all of May, we did it in July) I gave each child a tray with instant potatoes, and they had to create a potato sculpture, Then we went to the swimming pool filled with noodles, and the kids had to try and sit on balloons to pop them. After that, they filled their tray with the noodles, and then a whole bunch of old produce we got from the grocery store. We set up some boundaries so that food wasn't all over the entire yard, and started the food fight. Lots of fun!!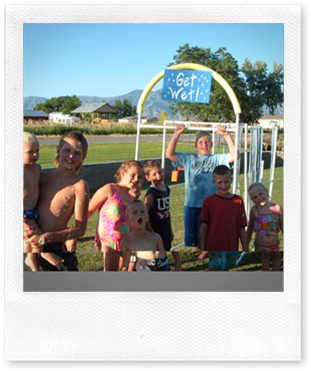 After that we went out front to the 'car wash' to get cleaned off. I had made it out of pvc pipe and literally looked like a car wash. By then it was 9:00 and everyone went in, got on their jammies, and went to bed. The next morning my husband made his 'famous' pancakes and then everyone went home.
I do try to make sure there is down time for the kids to just play together- jump on the trampoline, swing, play tag, etc. Last year the theme was magic. We saw The Sorcerer's Apprentice, played a magic hat game, and ate a magic cake (it was black & white, and then turned colored). For the finale everyone had to perform a magic trick. They had to practice it and have it mastered at home first. It was so much fun to see all these little kids do magic tricks!
Thanks, Jana, for sharing your great ideas.  In our next installment we'll hear how the Hale family runs their cousin's parties.
Aunt MO