"Miscellaneous" Activities for Your Family Reunion
I considered calling this post "Miscellaneous" activities for your family reunion because they aren't theme driven but have proven to be great time fillers for small groups of people during our family reunions.
Giant Checkers Rug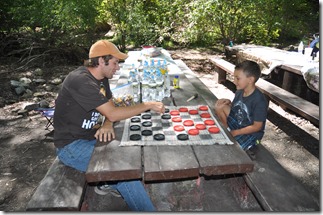 I have had this giant Checkers Rug for more than 20 years.  We set it out at every family reunion and you will always find two people playing Checkers no matter what time of day it is, usually with a small crowd gathered around cheering for the underdog to win.
Giant Coloring Pages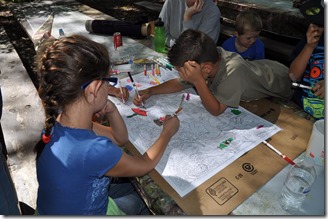 Giant coloring pages are always a huge hit at our  family reunions. Of course, there isn't room for a lot of people to sit around coloring, but it's a great activities for someone looking for a little down  time.  Coloring pages come in different themes that would go along with your reunion theme- jungle, circus, Medieval etc.  Some pages come with markers for coloring but you'll need to bring extra.  When your page is complete, roll it up carefully and then enter in your county fair or have it framed for Grandma.
The giant Checker rug and giant coloring pages are both available at the family reunion helper  store  for under twenty dollars.