A Favorite Family Reunion "Side"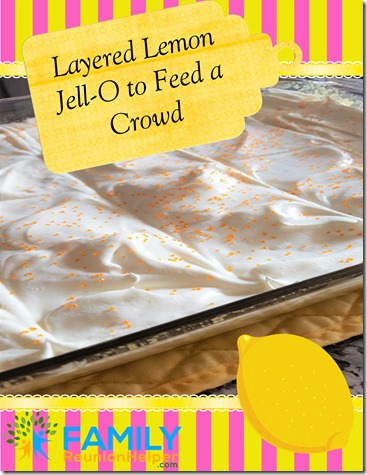 I love this salad, it's inexpensive to make, quick to put together (it takes awhile to set though) and everyone loves it. I'm not really sure that you should call it a salad, there's no fruit in it, let's just call it a "side". The fun thing about this side dish is that it separates and looks like you've spent a lot of time working on layers. In reality, it just makes the layers all by itself.
Lemon Jell-O for a Crowd
3 (3 oz.) pkg. lemon Jell-O
4 c. boiling water
1 (12 oz.) can frozen lemonade consentrate
1 (12 oz.) container Cool Whip
1 (12 oz.) container Cool Whip- for the top layer
Mix Jell-O and water until Jell-O is dissolved. Add lemonade and stir. Refrigerate until syrupy.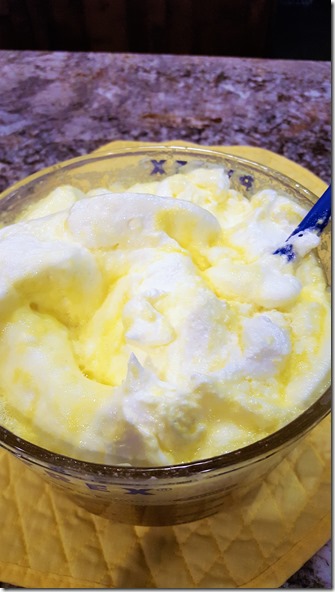 Fold in the whipped topping to the Jell-O and pour into a clear glass dish (I used a 10 x 15 Pyrex glass dish) and refrigerate until firm.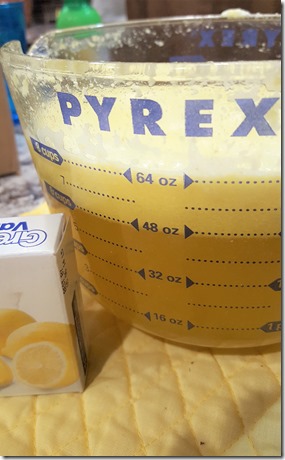 In the above photo you can see the layers beginning to form even as I'm folding in the whipped topping.
Spread a top layer for whipped topping over the Jell-O when set.
You change this recipe up to make it a fun side dish for using orange Jell-O with a can of orange juice and serving at your Halloween or Autumn gathering.
I'm not a great food photographer, I'm more of a, "I've got 80 people to feed how do I do that easily, inexpensively and deliciously" type of person. This lemon "side" is the answer for our family reunions and parties.