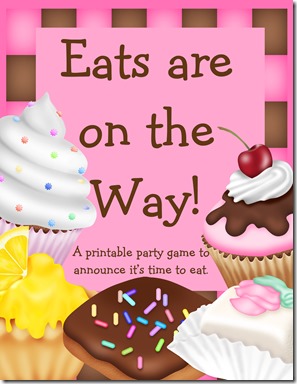 If you've hosted a party, shower or other gathering you know how difficult it can be to pull yourself away from the festivities in order to prepare the refreshments.  This simple game is the perfect solution! 
Just give your guests a copy of the game below and a pencil.  Tell them to solve the puzzle by answering the questions correctly.  As they get to work on the puzzle you sneak into the kitchen to prepare the refreshments.
The simple solution to the puzzle is, "eats are on the way".  It doesn't take much time to solve but it does distract for a few minutes and when they read the answer to the puzzle they'll be content to wait until you return with the  "eats".