Our family reunions are full of fun games, unusual activities, creative crafts and delicious things to eat but we also take time to learn about and honor our ancestors during "Family History Church".
Most of our family history church meetings are relatively simple but we have done some amazing and memorable things. Several years ago, we included an airplane ticket to Scotland with our family reunion invitation.
During the reunion, we made a huge "airplane" out of tents, tarps and lawn chairs and took off, in our makeshift plane, for a visit to our ancestral home. We lifted off to the sounds of recorded jet sound effects, and our flight attendants served us peanuts and pop. As we approached the halfway point, our plane developed engine problems and we crashed.
After the crash, we were greeted by a beautiful angel dressed all in white who led us to a secluded area of our campground where we were visited by six of our ancestors who shared their life stories with us. These "ancestors" were actually family members who memorized a script and dressed in costumes from the era in which they lived.
This was a very elaborate family history church and took a lot of advance preparation but it's an activity that family members still talk about.
Most of our family history churches are not nearly as complicated.  We always begin our family history church with a prayer and a song about family history/genealogy.
http://www.lds.org/churchmusic/detailmusicPlayer/index.html?searchlanguage=1&searchcollection=2&searchseqstart=94&searchsubseqstart=%20&searchseqend=94&searchsubseqend=ZZZ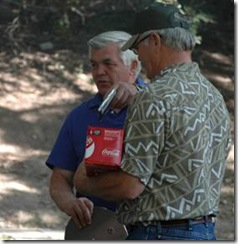 A few years ago we began spotlighting two family members, a child and an adult. We tell a little about the person and give them a few inexpensive gifts such as their favorite candy bar or soda. The next year those spotlighted choose another person to spotlight and so on.
I have the fun opportunity of giving a family history presentation about one of our ancestors each year.  These aren't long, boring presentations but often include games such as "Wheel of Ancestors" or "Family Feud" and other fun activities.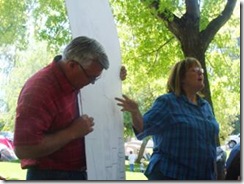 We have made crossword puzzles, coloring books and word searches to help our family learn about their ancestors. We have even acted out fun family stories and experiences that make us laugh.  Everyone in the Stewart family know the story of Aunt Ann and the banana because we acted it out during our family history church.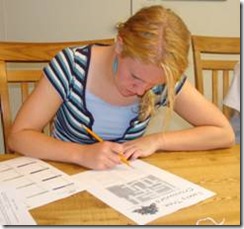 We value the life stories of our ancestors so much. I wish I could say that all of our family are keeping wonderful descriptive journals for their posterity but we aren't, so for more that 20 years we have asked our family to take a few minutes to fill out a journal page at our reunion. On the journal page, they record their experiences from the past year and then Grandma stores the pages in binders in hopes that some day we will compile them into family histories. Questions that are typically asked on the journal page are- What is the best thing that happened to you this year? What is the saddest thing that happened to you this year? What was the best movie you saw this year? For a more complete list of questions and sample journal pages, please download Journal Page Samples & Question Ideas.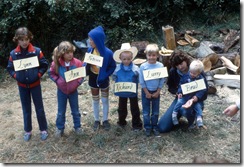 Anyone who has delved into the history of their family knows that, the more information they discover about their ancestors, the more real these people become, and the more fascinating. I love to learn the stories of the people that came before me and I love to share them with my family. Family history church is a wonderful way to join the past with the present and by learning about ones ancestors, it helps us understand ourselves, our heritage and the roots and branches of our family tree.
Aunt MO
"Family faces are magic mirrors. Looking at people who belong to us,
we see the past, present and future."
Author: T.S. Eliot