Family Reunion Helper proudly announces the completion of their latest family reunion theme- Superhero!
Now you can bring all the action-packed adventure and excitement of your favorite superheroes to your family reunion!
A superhero reunion will appeal to family members of all ages. Superheroes have unique skills, wear awesome costumes and save the world on a daily (sometimes hourly) basis.
A superhero family reunion lends itself to action-packed games, superhero training and fun activities.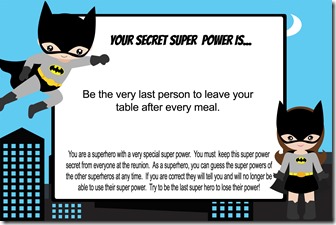 This reunion theme package includes a fun printable reunion invitation, secret super power cards, water bottle labels, superhero training cards, "what's my super power?" activity, Kapow!, Boom! and Zap! signs and fun printables for napkin rings and table decorations.
Our superhero reunion is jam packed with more than 35 pages of ideas for many of your favorite superheroes: Batman, Spider-man, Thor, Hulk, Captain America, Iron-man, Flash, Hawk-eye and even Aqua-man.
With the Superhero reunion theme your family will want to save helpless citizens, fight the forces of darkness and defeat the evil villains. Plan a superhero reunion and let your families' powers shine. Whether they're saving the planet or saving your family, a superhero family reunion or party will be a memorable reunion for anyone who has ever yearned to make right what's wrong in the world.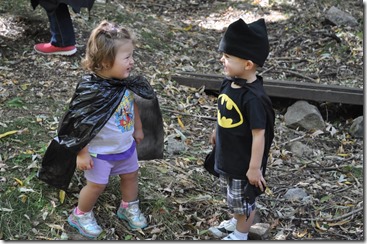 You can find the superhero reunion theme at Family Reunion Helper.com and by clicking on the link below.