Looking for a fun game to play with your family between Thanksgiving dinner and the Pumpkin Pie?
Our family tested our knowledge of Thanksgiving traditions and history at our family dinner last Thanksgiving. I came up with the questions and printed them off on half sheet papers. We followed basic TV Jeopardy rules and adapted as necessary for our situation.An example of answers and questions for the "First Thanksgiving" topic are as follows:
First Thanksgiving Answer Key
100: When was the first thanksgiving? 1621
200: The president who made Thanksgiving a national holiday? Abraham Lincoln
300: How long did Thanksgiving last? 3 Days
400: How many people where at the first thanksgiving? 140
500: What Indian Tribe? Wampanoag
You can download a pdf file of the Jeopardy game we used by clicking on the link below. It's ready to print with 1/2 sheet question cards and a list of answers. Heading cards are on a half sheet and feature the graphics shown in the photo above. Take a quick look at the questions before printing and make sure they are still applicable. Happy Thanksgiving!
FREE Thanksgiving Jeopardy printable

Just print off this game and you're ready to go- a fun Jeopardy inspired printable game.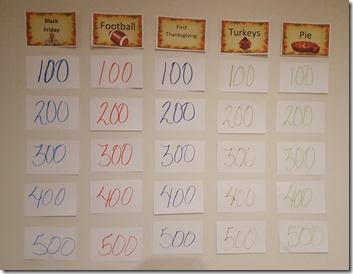 FREE DOWNLOAD!
Thanksgiving is at my house this year and as I've made my plans for food and activities I thought it might be fun to test every ones knowledge with a Thanksgiving Jeopardy inspired game. The great thing about this game is that you can print it off on 8.5x 11 paper, cut each sheet in half and after hanging on your wall you're ready to play. (Don't forget to write "100", "200" etc on the back of each card for points.) Not much prep work involved with this activity. Hope you enjoy the fruits of my labor and that you and your loved ones have a wonderful Thanksgiving.
Click on the link below for your free Thanksgiving Jeopardy game
Thanksgiving Jeopardy