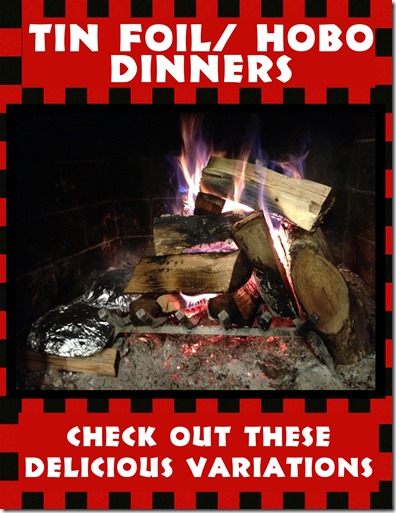 One of our favorite family reunion and campfire meals is Hobo dinners or Tinfoil dinners.
We love tin foil dinners so much we sometimes make them in our oven at home. Our favorite recipe for tin foil dinners is as follows:
Traditional Tin Foil Dinner Recipe
Place the following items on a piece of heavy-duty aluminum foil. Spray with nonstick cooking spray to prevent sticking.
Ingredients:
1 hamburger patty per dinner- 1 pound ground beef will make 4 patties
1/2 cup thinly sliced carrots
1 potato, peeled and sliced thinly or diced 4 potatoes, peeled and cubed
Onion slices
2 Tablespoons cream of chicken condensed soup
Place patty in the center of each piece of foil. Put vegetables on top of meat. Sprinkle with salt and pepper. Add cream of chicken soup in two dollops on top of dinner and fold foil up tightly around the entire meal.
Cook on a grill on medium-high heat or in a campfire for 25-30 minutes, or until vegetables and meat are cooked through. You can also cook dinners in the oven (350 degrees for an hour) by placing meals on a cookie sheet before baking.
Be careful when opening the foil- it is very hot!
Tin Foil Dinner Secrets to Success
Identify your foil dinner by writing your name or an identifying mark with permanent marker or by folding the foil in an unusual way.
You may substitute the soup with a few sprinkles of Worcestershire sauce.
When cooking on a fire (when its easy to burn dinners) make an extra meal. If a meal gets too crispy you'll have an extra meal and no one goes hungry.
Add a tablespoon or two of water before sealing dinner up to steam your meal.
Turn packets half way through cooking process, using oven mitts or leather gloves.
Tin Foil Dinner Variations
On a family and friends camping trip one of our friends made their tin foil dinner with chicken and rice. I thought that was a little odd but it got me thinking about variations to our basic recipe.
Tin Foil Dinner Seasoning Variations
Try one or more of the following in your dinner: garlic salt, season salt, lemon pepper, Italian seasoning, BBQ sauce, Ranch salad dressing (delicious on chicken) chili powder, or steak sauce.
Breakfast Tin Foil Dinner
Prepare one thin sausage patty made from lean country sausage, place on foil; add 3/4 to 1 cup frozen hash browns creating a nest in center of your potatoes; add one egg to the nest; wrap. Sprinkle with grated cheese just before serving.
Glazed Ham Tin Foil Dinner
Place one carrot thinly sliced on foil, salt and pepper to taste; place a slice of ham on top carrots, about 1/2-inch thick; place a ring of pineapple on ham; drizzle with 1 tablespoon honey, wrap.
Ranch Chicken Tin Foil Dinner
Combine 1 packet dry Ranch dressing mixed with 3/4 cup corn flake crumbs and 3/4 cup grated Parmesan cheese. Dip one boneless, skinless chicken breast in melted butter, Ranch dressing mix and place on foil. Add potatoes and carrots.
This will make 4 to 6 chicken breasts.