A Family Favorite Recipe
I keep seeing pictures like the one pictured above, on Facebook. People are posting their pictures of mounds of Zucchini and I gotta say- I AM SO JEALOUS! My husband grudgingly lets me plant one hill of Zucchini each year but this year the bugs got it and the plant died. So here I sit, writing a blog about one of our families' favorite recipes with no Zucchini in sight.
It actually scare me a little to say that, if my neighbors see this post they may want to share their zucchini with me (that would be awesome) but as Paul Harvey lamented in his dirt road commentary, "At the end of a Dirt Road, the only time we even locked our car was in August, because if we didn't want some neighbor to fill it with too much zucchini. "Bring it on , neighbors!
If you're one of the lucky ones with a sink full of Zucchini you might want to try this delicious recipe for Zucchini bread. This recipe is in our family cookbook and is a favorite at our family reunion fundraising auctions.
I always use half oil and half applesauce but if I'm looking for a healthier option I will leave out all the oil and substitute it with more applesauce. It's still delicious but not quite as moist.
This recipe differs from other Zucchini bread recipes because it has cinnamon, nutmeg and ground cloves in it.
I usually make my Zucchini bread in small loaf pans and then I wrap it in tin foil and put it in the freezer. My husband likes to take it in his lunch and the smaller loaf size is just right. I also make Zucchini muffins from this same recipe.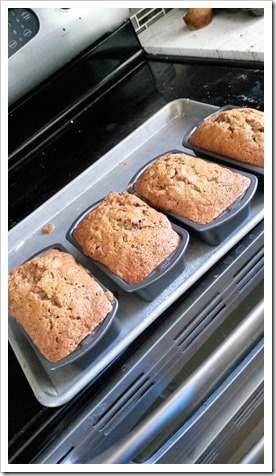 Ingredients
3 cups all-purpose flour
1 teaspoon salt
1 teaspoon baking soda
1 teaspoon baking powder
1 tablespoon ground cinnamon
1 teaspoon ground nutmeg
1/4 ground cloves
3 eggs
1/2 cup vegetable oil
1/2 cup applesauce
2 1/4 cups white sugar
3 teaspoons vanilla extract
2 cups grated zucchini
1 bag MINI chocolate chips (must use Mini chips)
Directions
Grease and flour two 8 x 4 inch pans. Preheat oven to 325 degrees F
Sift flour, salt, baking powder, soda, and cinnamon,nutmeg and cloves together in a bowl.
Beat eggs, oil, vanilla, and sugar together in a large bowl. Add sifted ingredients to the creamed mixture, and beat well. Stir in zucchini and chips until well combined. Pour batter into prepared pans.
Bake for 40 to 60 minutes, or until tester inserted in the center comes out clean. Cool in pan on rack for 20 minutes. Remove bread from pan, and completely cool.
In our family, I'm famous for my Jell-O making and my Zucchini bread- hope this becomes a family favorite at your house too.
Aunt MO