My family consists of 8 adults and 4 children 6 years and under.  We like to get together for family game night every Friday.  We make homemade pizza and play games.  We have some fun games that we adults like to play but we're always on the look out  for games that the kids can play. 
Our latest find is Pengoloo.  It's a very simple but well-done memory game.
There are twelve cute wooden penguins with a hollow space to hide one of twelve brightly colored eggs (2 each of 6 colors).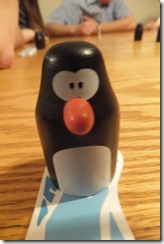 Players roll the dice to determine what color eggs they are looking for and then look under two penguins. If they get a match, they get to keep it; if both match, they get another turn; otherwise, it's the next player's turn.
The first to get 6 eggs wins, or the one at the end with the most eggs.
Our little ones, and the big ones too, had a fun time playing this game for family game night. The game is very sturdy and I think that it will last a long time.  It costs under $25.00 and you can purchase it by clicking on the  link below or in the family reunion helper store.