I love to do family reunion presentations to church groups and women's conferences.  At my recent presentation one of the dear grandma's that attended expressed some concern about doing a three day family reunion and it occurred to me (kind of like one of those "could've had a V-8 moments in the commercials)- have I ever mentioned that your reunion doesn't have to last three days or two or even all day?  A family reunion can be a fun afternoon with your family at the park, swimming pool or the family homestead.  Any time you can get together as a family is a good thing and counts as a family reunion.
So I thought I'd tell you about a fun party idea for abbreviated family reunion.  My family loves to have their own car races- Pinewood Derby or Hot Wheels race.

If you know anything about scouting you know how fun and popular a Pinewood Derby can be. About 10 years ago we had derby at our family reunion. We let anyone that wanted to participate bring a derby car. It could be one that they had made in the past or one that they made just for our derby. We awarded prizes for how the cars looked and how they performed.
We arranged for a man in our local to bring his derby race track and timer for our event. He charged us $20.00. Our reunion was held at a campground and we asked the camp hosts to be the judges at our derby. We invited them to stay for Dutch oven cobbler after the races and I think they really enjoyed being part of things. We gave trophies for the fastest car and also gave out the following awards:
Best Paint Job
Most Colorful
Most Realistic
Most Original
Best Workmanship
Best Funny Car
Coolest Design
Most Unusual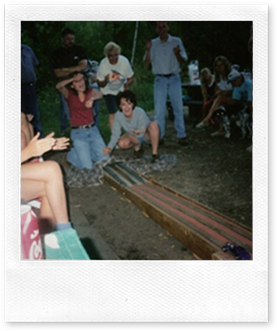 I heard of a family that passed out unfinished Pinewood Derby kits to their family as they arrived at their family reunion.  They gave them an hour to put their cars together and make whatever alterations they wanted to their car.  When the hour was up they began the race with roughly finished cars.
It was quite surprising to me how excited everyone was about participating in the derby. One of my nephews even had his car professionally painted.
Hot Wheel Car Races
When my brothers and I were little we used to have Hot Wheels races and the tradition continues with our children today. In fact, if any of my nieces and nephews read are reading this blog just remember Aunt MO ALWAYS has the fastest car!! The track we used to use is now orange "vintage" track and you cannot buy it at the store or online. However, you can, always find it on eBay. The most important part of your race is the starter which you see pictured here.
We love to get Hot Wheels cars in our Christmas stocking and then have a "race day" during the holiday. At other times of the year we converge on the local toy store in search of the fastest car rolling them back and forth in their clear containers and checking them for weight. We limit everyone to just two entries in our double elimination tournament.
I'm always on the lookout for Hot Wheel and Nascar type prizes and store them in a box until the next family race day. Notebooks, stickers, candy and even Spaghetti O's make fun prizes for your race.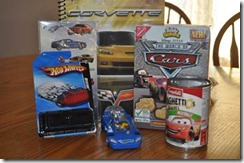 One final idea that I have never tried but sure sounds fun is to play a car relay race as a warm up before the big race.
CAR RELAY GAME: Have teams line up and each person in the team has a certain action to do. For instance, the first person in each group is a flat tire and hops on one foot; the second person is a broken steering wheel and runs zig-zag; the third person is a rusty transmission and takes three steps forward and two backwards; the fourth person is stuck in reverse and runs backward; the fifth and sixth people are a car with a trailer – one runs behind the other grabbing on.
The movie "Cars" sure made it easy to find auto type decorations and novelties.  Wilton put out a Cars cake pan that was fun and fruit chews and cookies helped complete the party theme.
Gentlemen, start your engines…
Aunt MO
A difference of opinion is what makes horse racing (car racing) and missionaries. Will Rogers