My family didn't go trick or treating when I was a kid, we attended school carnivals and had fun celebrations at home.  Uncle Steven's family perfected trick or treating and got it down to a science.  Somehow, when Uncle Steven and I married we took the traditions of both families and through trial and error came up with our own family traditions.  So here's a few of our favorite food and games for this spooky time of year.  The first is a recipe my daughter, Megan, found and it is so yummy she has been banned from making it again this year- these eyeballs are just so good we can't stop eating them!
Spooky Peanut Butter Eyeballs
Ingredients: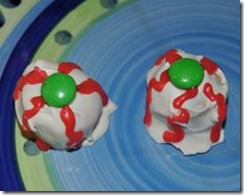 2 cups powdered sugar
½ cup creamy peanut butter
3 Tablespoons butter, softened
½ – 1 pound white chocolate candy coating
Small bag of M & M's or Skittles
Tube of red decorator frosting
1. Blend peanut butter and butter until creamy. Add sugar. Continue beating until it comes together and is about as thick as thick cookie dough. When well blended shape into 1 inch balls and put in the fridge on waxed paper to chill until firm. (30 minutes)
2. Melt the white candy coating in the microwave. Microwave in 60 second intervals stirring at the end of every minute until candy is smooth and creamy. Dip peanut butter balls in the candy coating and place back on your waxed paper. Immediately press a candy on top to make an iris. Place back into the fridge until set.
3. Using the tube of red decorator frosting make red squiggly blood vessels.
HINT: Since taking these photos we have found that to clean your eyes up a bit, use a paring knife to cut the excess candy coating from the eyeball- it will give your eyeball a cleaner look.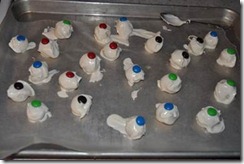 Bouncing Eyeballs Take a ping pong ball and decorate with markers to look like blood shot eyes. Then get a plastic pumpkin or party cups. Now give each child an eyeball and place the plastic pumpkin or cup at the bottom of stairs or across the floor. Have each player toss or bounce the eyeball down the stairs or across the room. The goal is to see if their eyeball bounces into the pumpkin. You can give a prize to those that get it in the pumpkin. Also for young kids, you may want to place paper cups together and have each cup worth a prize.
Mummy Pizzas
My favorite hair stylist, Stephanie, shared this recipe while she was doing my hair on Saturday. Of course, my daughter and I had to come right home and try it! To make pizzas look like mummies just lay strips of cheese pulled from a cheese stick across the muffin for the mummy's wrappings. This was the hardest part of this recipe for us. Arranging the cheese "just right" takes a little talent- you want the cheese to look like "wrapping" not a picket fence or a white window blind.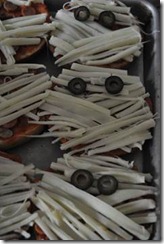 Ingredients:
Whole wheat bagels
Pizza sauce or spaghetti sauce
Black olives, sliced
Pepperoni
String cheese
Instructions:
Heat the oven to 350º F.
1. For each mummy, spread a tablespoon of pizza sauce onto each bagel half.
2. Set olive slices in place for eyes. Bake 10 minutes or until cheese melts.
3. Bake for about 10 minutes or until the cheese is melted and the bagel is toasty.
Mummy Wrap
Equipment Needed – One roll of toilet paper for every team. Split into teams of two and give each team a roll of toilet paper. Then one person tries to turn the other into a mummy. Everything has to be covered except the eyes. First team done wins.
Flaming Ghost Cake
Boo! This ghost will surprise and delight your family and friends when you turn off the lights and let his flaming ghost's eyes flicker and dance. This fun and clever cake is quick and easy to make.  I was given this recipe the first year Uncle Steven and I were married.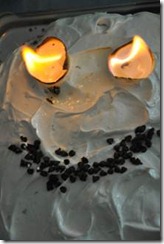 Ingredients:
Bake any flavor cake mix in a 9 X 13 pan. Grease and flour pan well so that you can dump it out onto f flat cookie sheet or foil wrapped cardboard. Cut cake into your favorite ghostly shape.
Frost with Grammie's famous "Fluffy Frosting" recipe.
Grammie's Fluffy Frosting
Grammie used this frosting in place of 7 minute frosting because you don't have to cook it. Adding the HOT water is the secret.
Combine in a mixing bowl:
1 cold egg white (reserve egg shell halves)
1 cup granulated sugar
¼ teaspoon cream of tartar
½ cup of BOILING water
½ teaspoon vanilla
Whip on high speed for 10- 15 minutes. Frost cooled cake with fluffy frosting.
Place the 2 egg shell halves you reserved round sides down on the cake for the eyes. Place one sugar cube in each shell half. Make a mouth out of licorice string, chocolate chips or candies.
Just before serving, pour ½ teaspoon of lemon extract over each sugar cube. Light the eyes.
Ghosts in the Graveyard
Choose one person to be the "ghost".
Have everyone but the ghost stand at the home base while the ghost runs off to hide somewhere outside.
Chant slowly as a group, "One o'clock… two o'clock… three o'clock…" and so on, up to twelve o'clock. Then shout, "Midnight! I hope I don't see the ghost tonight!" Alternatively, "Starlight, star bright, I hope to see a ghost tonight!"
Leave the home base and search for the ghost in the yard. The ghost's job is to jump out, surprise, and tag a player. When anyone encounters the ghost they should yell, "Ghost in the graveyard!" and try to run away. When the ghost catches someone, they become a ghost too. Anyone who is able to run back to home base is safe.
Have all the people who were caught go and hide with (or close to) the original ghost. The people on the home base start again with the chant, "One o'clock… two o'clock…"
Continue the game like this until everyone is caught.
The last person caught becomes the ghost for the next round.
Extra Easy Pumpkin Cookies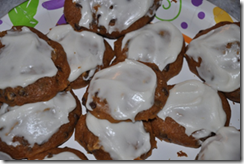 Ingredients:
14 ounce can pumpkin mix or use pure pumpkin and add pumpkin pie spices
1/2 cup butter, softened
2 eggs
1 (18.25 ounce) package spice cake mix
Mini chocolate chips, optional
Cream cheese frosting, optional
Directions
Preheat oven to 350 degrees. Lightly grease two baking sheets.
Beat the pumpkin, eggs, together in a large mixing bowl. Stir in the cake mix until well blended and creamy. Add chocolate chips if desired. Drop by spoonful's on prepared baking sheets. Frost with cream cheese frosting.
Bake in preheated oven until tops are firm when lightly touched, 10- 12 minutes. Cool on racks.
"Crazy" is a relative term in my family!
Aunt MO