Making and decorating their own 5 gallon bucket seat is a great ice breaker activity for your family reunion.
5 Gallon Bucket Seats for Your Family Reunion
If your family reunion is held at a campground you might find these 5 gallon bucket seats a fun and useful addition to your reunion. They're easy to make and handy for storing anything you might want to access quickly such as flashlights, sunscreen, bug  spray, gloves etc.
What you'll need:
5 gallon bucket (Have everyone bring their own bucket.  If you have family that will be traveling long distances to attend your reunion, purchase their buckets for them.)
Fabric-I like using bandanas
Polyethylene foam or quilt batting for the cushy part of your seat.
Particle board or for a more economic solution use cardboard.
Scissors
Sharpies
Staple guns
NOTE: Be sure and have plenty of scissors and staple guns so that people are not standing around waiting to use them.
Step 1. Cut the circles out of particle board or plywood scraps
Trace the lid for your pattern then use a jigsaw to cut circles from particle board or any scrap wood you may have.  You will want to have these cut in advance if you are camping.  Of course,if you are using cardboard they can be cut at the campsite.
Step 2:  Add The Padding.
For the first buckets we made we used very thick (2- 3 inch) foam but we found that any padding at all makes the bucket more comfortable- even a couple of layers of quilt batting works well.  Our best buckets were made with  1/2 inch Polyethylene Foam.
Place the wood circles on the foam and trace them. Cut the foam to fit.
NOTE: Be sure the handle of your bucket can move up and down. If your foam is too thick the handle won't be able to move.
Step 3: Attach the fabric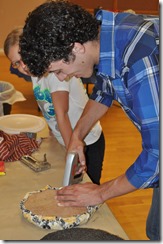 Lay the wood piece on top of your fabric and add three inches to the circle. Cut out the fabric and then  using staple guns attach the batting and  fabric to the wood circle. Pull the fabric tight before stapling it on the board.
Step 4: Decorating Your 5 Gallon Bucket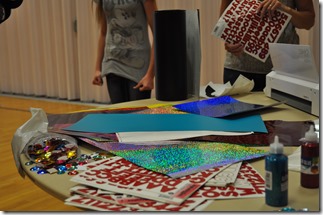 Here's the fun part!  If someone in your family has a vinyl cutting machine such as a silhouette, ask them to cut a variety of shapes and designs that can be used to personalize buckets.  Supply alphabet stickers, glitter glue, sticky jewels, buttons, ribbon  and permanent markers so family members can decorate their buckets in their own personal style.