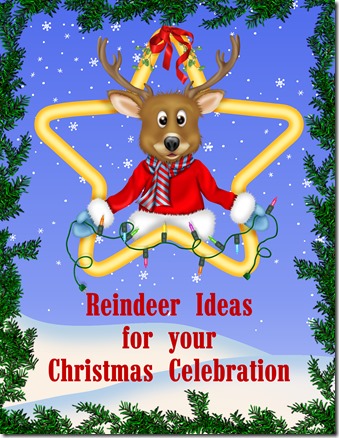 Magic Reindeer Food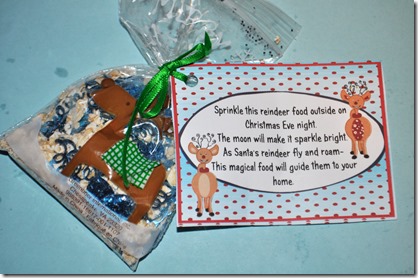 When you sprinkle magic reindeer food on your lawn on Christmas Eve, it leaves a glittering path–and a sweet treat–for Rudolph and Blitzon and their friends.
Make a bag of Magic Reindeer food for each family that attends your party or as an inexpensive stocking stuffer for each child.
Package this simple recipe in zipper food storage bags, and add a free printable gift tag containing the Magic Reindeer Food poem to make Magic Reindeer Food easy to make–and to give.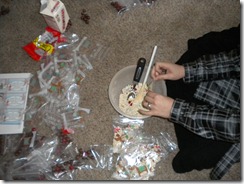 Magic Reindeer Food Recipe
In a large bowl or container, mix:
1/4- 1/2 cup uncooked oats
1/4 cup red or green sugar crystals
Small sealable bag
Magic Reindeer Food poem (You can find a free printable of the poem at Magic Reindeer Food Poem)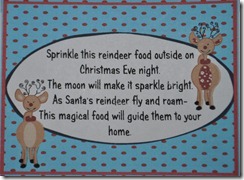 Package Magic Reindeer food in small food storage bags or holiday gift bags.
NOTE: You can use craft glitter in your magic reindeer food but colored sugar crystals (as used for cake decorating) are safer for other animals or birds that may ingest it.
Reindeer Noses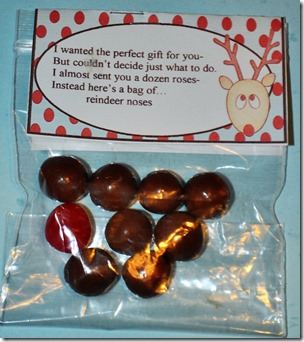 Another fun reindeer games party favor is a bag of reindeer noses.
I wanted the perfect gift for you-
But couldn't decide just what to do.
I almost sent you a dozen roses-
Instead here's a bag of…
reindeer noses
Reindeer noses are simply seven brown candies such as "Whoppers" and one red candy (to represent Rudolf). I used sour cherry candies for my red nose. You may find a free printable of the reindeer nose poem below. Just copy and paste into your document.
Log Reindeer Centerpieces
Log reindeer are the perfect project for your centerpieces. Simply reuse scraps of wood and timber from your woodpile, drill a few holes, and glue it all together. You'll need a few thicker logs for the body and head; long, thin sticks for the legs, and pronged branches for your reindeer's antlers. Add bow, bells or tinsel to complete your project. After the party you can give away part of your herd as prizes or save them to give as neighbor gifts.
Reindeer Cupcakes
Bake cupcakes according to package directions and frost generously with chocolate frosting. Top with pretzels for the antlers, a Nilla Wafer for the face, white frosting dots for the eyes, back pearl sprinkles or black icing for the eyeballs, and brown and red candies for the nose.
Santa Pancakes
HINT: We made the pancake base of our Santa pancakes before arriving at the party. Because they are a little time consuming we began decorating them in advance. We noticed that the whipped cream started getting soft and didn't look as cute. Solution- get more help with the decorating so that you can make them on the spot.
Reindeer Games Minute To Win It
We used the "Minute to Win It" format for our "reindeer games". We divided into four teams- team Rudolf, team Blitzen, team Dasher and team Donner and competed in 8 different challenges. We projected a countdown clock on the wall so that everyone could join in the drama as the seconds counted down. For more information on Minute the Win It games check out the following link.
http://familyreunionhelper.com/blog/2011/10/minute-to-win-it-party-2/