One side of our family always combines their family reunion with a weekend of camping.  As I've been working on a  theme and activities for our camp I found a copy of this silly camp song in one of my files. 
It seems like everything the song mentions happens when we go camping from missing tent poles to getting eaten' alive by mosquitos. I thought I'd share it- maybe someone will get a chuckle out of it.  The only catastrophe it doesn't mention is the broken zippers on our tent.  Maybe I'll make up my own verse to talk about that.'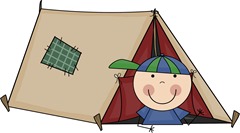 "Take Me Out To The Ballgame" Tune
Sing this song to the tune  of "Take Me Out To The Ballgame"
Putting up our old dome tent
Who forgot all the poles?
Rolling out all the sleeping bags
oh no the tent top is starting to sag.
Let me melt my shoes in the campfire,
freeze my toes in the stream.
I'll eat one, two, three chocolate S'mores
It's a camper's dream!
Sleeping out on the hard ground.
My air mattress is flat.
Skunks, mice and squirrels invade my space.
I feel them crawling all over my face.
I'll wash my hair in cold water.
The headache freeze is a pain.
It takes one, two, three times to rinse.
It's a camper's dream!
Lead me back from the outhouse.
Take me back to my tent.
Cook me a hot dog on a long, straight stick.
I'll eat so many that I'm sure to get sick.
Let's all sit around the campfire
who forgot the bug spray with Deet?
Now it's one,two, three mosquito bites
it's a camper's dream.
Happy Camping!