I usually mix up a batch of cookie dough to bake in our Dutch oven when we go camping, but on a whim I threw in a package of cookie mix for our last camping trip and it was a hit!
Using the mix the cookies were quick and easy to stir together and I didn't have to worry about keeping the dough cold.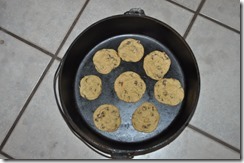 If using a 12″ Dutch oven, you can bake about 8 cookies at one time. Bake at 375 degrees for 10 minutes or until light brown. Use 6 coals on bottom, 22 on top.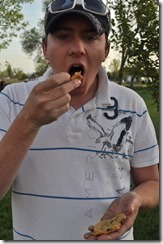 The mixes don't make a huge batch and as good as fresh baked cookies taste when you're camping you might want to toss in an extra package of mix.