This is our favorite family reunion recipe- you make it one pot and it feeds 12- 14 depending on serving size. We like to cook this in our Dutch ovens over a campfire but this recipe can easily be prepared and then baked in your oven. Basically all you are doing is warming it up and melting the cheese. We serve it with lettuce, chopped tomatoes, sour cream salsa and tortilla. Dutch oven stacked enchiladas is such a flexible recipe that you can substitute or add any ingredients that you desire. You can easily make it spicy or keep it mild for the kids in your family. It's the perfect recipe for your family gathering. This recipe adapts easily to a 14 inch oven and even cake pan or casserole dish.
Dutch Oven Enchiladas
2 lbs. hamburger
1 cup water
1 chopped onion
1/2 cup grated cheddar cheese
1 10-ounce can enchilada sauce
1 10-ounce can tomato soup
2 cups of salsa (mild or hot)
1 can olives, sliced
2 lb package shredded cheese
Flour tortillas (9-inch size)
Optional: for extra spice add 2- small cans diced chilies and one package taco mix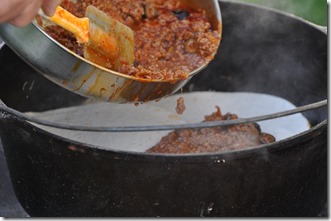 Heat 12 inch Dutch Oven over coals.
Brown hamburger, onion and salt
Drain drippings.
Add soup, water, enchilada sauce and salsa.
Simmer 10 minutes.
Put ¾ of hamburger and sauce mixture into separate container.
Arrange 3 tortillas over mixture remaining in oven.
Alternate meat, cheese and tortillas in three layers ending with cheese and olives.
Bake with 12 coals underneath and 16 on top until heated through about 45 minutes or in your oven at 350 degrees for 45 minutes to an hour.
Hint: Serve these enchiladas to your guests to be sure you get to the bottom of your stack. You don't want them to scrape off the top of enchilada stack.
Serves: 12- 14