Three Day Family Reunion
Two days of severe thunderstorms-
Are you kidding me!!!!

Be Prepared for Bad Weather
The Stewart family has held their family reunion on Labor Day weekend for almost 30 years and in all those years we have only had rain three times- we're either "lucky" or "blessed".  When I do family reunion presentations I talk about the "Three Keys to a Successful Family Reunion" but after our last reunion I think I will add a fourth key- be prepared for bad weather!
The challenge was not keeping dry in our tents but keeping dry as we did our many fun activities and how to keep 80 people out of the rain while doing them. 
I would always prefer to have our family reunion in sunny weather but every outdoor reunion or party should have an alternative plan, in case the weather becomes uncooperative. It isn't always reasonable to cancel the reunion or reschedule, instead you need to have a "plan B".
Surviving a Family Reunion in Bad Weather
Plan Ahead
When I checked the weather forecast the day before we left for our campsite I realized that we could have some rainy weather so sent off a quick email to family members asking them to bring tarps and ropes and to prepare for stormy weather.  Our guys are so resourceful they were able to cover all of the tables and cooking area.  I learned that no matter what the forecast pack a large tarp and rope when packing for our reunion.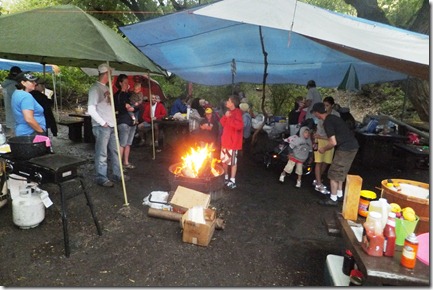 Alternate Activities
Luckily we had planned some activities that we could do under the tarps as it rained and we adjusted our schedule to fit whatever the rain was doing. We played BINGO during one downpour which provided good entertainment for everyone. From now on I will always include BINGO supplies when packing for our reunion- just in case.
We planned the Not So Newlywed game as one of our activities and played the first half of the game in the sunshine and for the last half moved in under the tarps when the rain began to fall.
BUNKO is a great group game that mixes everyone up and gets them working together. It takes very few supplies (dice, pencils and score sheets) and can easily be a permanent addition to your reunion supplies.
You can also throw in a few board games, puzzles and a deck of cards.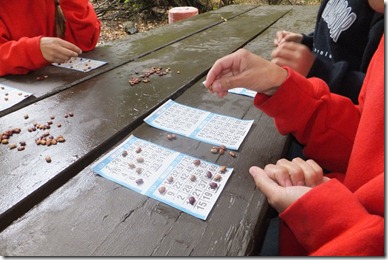 Reserve an Alternate Indoor Location
I wish I had thought of this before our reunion.  About 2 miles from our reunion campsite was a church.  We could have reserved it for a nominal fee and then when it started raining it would have been a great place to play some fun group games and perhaps eat a meal.
If you're close to a town, take everyone bowling, to an indoor pool or a movie. Hopefully, a few hours later, the weather will be more cooperative. If not, stop at a restaurant or fast food place for an ice cream treat or a full meal.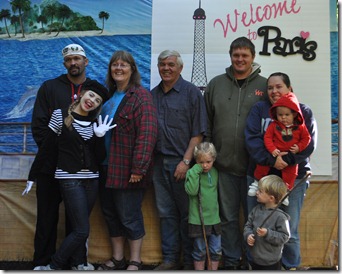 Our reunion theme this year was "Cruisin'" and it appeared the "captain" of our ship was not very experienced as he kept steering our cruise ship into major tropical storms.  However, his "passengers" were amazingly positive in spite of the weather.  A couple of times I thought about suggesting we "dock the ship" and go home but with everyone working together and helping each other it turned out to be one of our best family reunions ever.  Oh, and we did get ONE day without rain.
You can read more about planning for stormy weather at Planning for Stormy Weather.  And remember-