Campfire Éclairs
Our friends the Cutlers, introduced us to "Campfire Éclairs" several years ago and Campfire Éclairs have been a fun family reunion tradition ever since.  If you need a break from S'Mores (how could you need a break from S'Mores?) try these delicious Campfire Éclairs at your next family reunion.
Spray the end of a 1- inch dowel with cooking spray. Take a biscuit (i.e. Pillsbury dough, bannock dough or other substitute) or two, two if small, one if grand and wrap it around the end of the stick (make sure there are no holes in the dough). Roast over fire until golden brown. Cooking the dough will take a little patience.  You have to really move your stick around so that the end doesn't burn.  But if you persist the end result is worth the effort.
Remove crust from stick when cool enough to touch and fill with vanilla pudding. Frost with chocolate frosting.
I found a fun new product that adds to the Éclair experience. This product hit the shelves of grocery stores in 2010 and comes from Pillsbury and is called "Easy Frost".  It was the greatest thing for making campfire "Éclairs".  It is rather expensive but for our family, the convenience was worth the cost.  Another way we make Éclairs more convenient is by using premade vanilla pudding in the individual serving packages.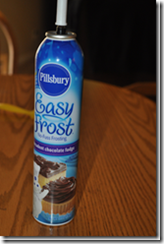 Aunt MO
"He has no more backbone than a chocolate eclair"
Theodore Roosevelt